As recovery continues, Mauer's return no sure thing
As recovery continues, Mauer's return no sure thing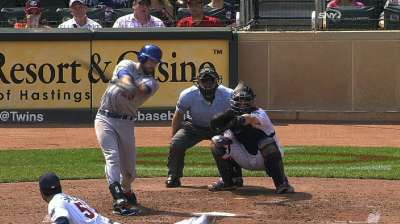 OAKLAND -- One day after expressing definitive encouragement in regards to Joe Mauer's return off the disabled list, Twins general manager Terry Ryan flipped the script on Friday and questioned whether the All-Star catcher will see another at-bat before the end of the 2013 season.
"We have 10 left and he hasn't done any baseball activities, so add it up," Ryan said. "We're running out of calendar."
Ryan's sentiments contrast his stark optimism prior to Thursday's series opener in Oakland, where he said, "I'm holding out hope that we ultimately can get him back on the field. So we're working toward that."
He said Mauer's rehab went just as well Friday as it did Thursday, participating in cardio exercises and general rehab, but he's yet to pick up a bat or do any baseball activities. Mauer sustained his concussion off a foul tip on Aug. 19, and it would be presumably difficult to face Major League pitching on such short notice if and when he's cleared to play this season.
"If there's anybody that could do it, it's Joe," Ryan said. "We know that."
Ryan refused to consider whether his return might be sooner if he focused on acting as a pinch-hitter or designated hitter rather than playing a defensive position, calling the notion premature. He also refuted the suggestion of ending the speculation now rather than holding out hope for an appearance in the last handful of games. Minnesota's All-Star catcher, who's batting .324 with an .880 OPS, 11 home runs and 47 RBIs in 113 games this season, has not had an impact test in a week.
"He's still got to work. He's still getting prepared and so forth," Ryan said. "He's getting over the symptoms. That doesn't mean I'm going to strap the gear on him here in three days and sit him behind the dish."
"Our main goal with Joe is that he's 100 percent," he added. "I'm not sure what we'd accomplish."
Jeff Kirshman is an associate reporter for MLB.com. This story was not subject to the approval of Major League Baseball or its clubs.