Campaign comes to a close for Mauer
Campaign comes to a close for Mauer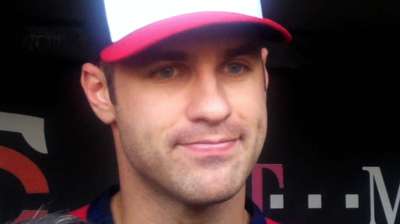 MINNEAPOLIS -- Joe Mauer's season has come to an end.
General manager Terry Ryan announced on Monday that Mauer, who has been out since Aug. 19 with a concussion sustained on a foul tip while catching, will not play again in 2013.
Ryan said that after talking with the team doctors, trainers and Mauer, it was decided the best course of action is to shut down Mauer for the final week of the season and focus on getting him healthy for 2014.
"With the calendar and the schedule and so forth about to run out, it's unrealistic for us to think we're going to get him on the field this year," Ryan said. "Ultimately, we're going to work toward the 2014 season. There are no setbacks. There are no red flags here. But on the advice received from medical people, the best thing was to have Mauer get healthy as soon as possible and be ready for next year."
Mauer is expected to continue working out at Target Field this week and will have a normal offseason, as the team is hopeful that his concussion-like symptoms will be gone soon. Ryan will meet with Mauer to discuss how much he'll catch next season, but Mauer said that the goal remains to stick behind the plate.
"I have every intention to come back and catch," Mauer said. "That's what I do. Right now I have to take care of this situation so that I can, but I look forward to getting back on the field next year as a catcher."
Mauer finishes the season with a .324/.404/.476 slash line, with 11 homers, 35 doubles and 47 RBIs in 113 games. And although he was an All-Star for the sixth time in his career, he admits that it's frustrating to see his season end the way it did.
"It's disappointing," he said. "I've spent a lot of time trying to get back out on the field. We gave it a good go, but I wasn't able to get back out there."
Rhett Bollinger is a reporter for MLB.com. Read his blog, Bollinger Beat, and follow him on Twitter @RhettBollinger. This story was not subject to the approval of Major League Baseball or its clubs.