Pelfrey expresses desire to return to Twins
Pelfrey expresses desire to return to Twins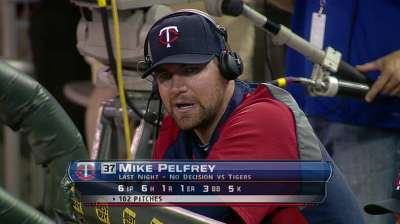 MINNEAPOLIS -- Mike Pelfrey finished his 2013 season with the Twins on Monday night, but if it's up to him, he'd like to return to the club next season.
Pelfrey gave up one run over six innings in his final start against the Tigers to end his season on a high note. It was the end of an uneven season for Pelfrey in his first year back from Tommy John surgery.
Pelfrey, who is set to be a free agent at the end of the season, said he'd like to re-sign with the organization, but that will be up to general manager Terry Ryan.
"I want to come back," Pelfrey said. "Ultimately, it's in their hands what direction they want to go. But I told them I'd love to come back. We'll cross that bridge when it gets here. Minnesota's been great. It's been very refreshing coming from New York. I've enjoyed my time here and hopefully there will be a lot more."
Pelfrey, who had a $4 million base salary and received a $100,000 bonus for pitching more than 150 innings, posted a 5.19 ERA in 29 starts. He had a 6.66 ERA through June before faring better with a 3.45 ERA in 11 starts in July and August. But he had a 7.45 ERA in four September starts, and ended his season with 152 2/3 innings.
"I'm not going to sugarcoat it and say I had a good year," Pelfrey said. "It didn't work out the way I wanted for me or the team. April and May were pretty bad, the middle part was better but then September was bad. … But I finished healthy, which is more than I can say about last year."
Rhett Bollinger is a reporter for MLB.com. Read his blog, Bollinger Beat, and follow him on Twitter @RhettBollinger. This story was not subject to the approval of Major League Baseball or its clubs.