St. Peter pleased with season-ticket sales for 2014
St. Peter pleased with season-ticket sales for 2014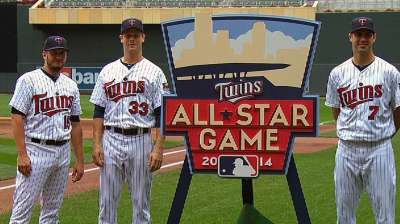 MINNEAPOLIS -- Team president Dave St. Peter is encouraged by season-ticket sales for next season but says it's too early to make a projection, as the renewal date is next week.
St. Peter acknowledged that the season-ticket base has declined over the last few years. There was a base of about 25,000 season tickets in both 2010 and 2011, but that number dropped to 23,000 in 2012 and 18,000 in 2013.
Even so, the Twins expect season-ticket sales to remain strong, as Target Field is set to host the 2014 All-Star Game.
"They're good," St. Peter said. "We're still very bullish that our season-ticket base will be one of the bigger ones in the game. I'm not predicting that it's going to go up. I'm not predicting it's going to go down. It's too early to tell."
St. Peter also thanked fans for sticking with the team despite its struggles over the last year. Despite another season with 90-plus losses, the Twins are averaging 30,669 tickets sold per game, which ranks 17th in the Majors, comfortably ahead of such contending teams as the A's (22,337), Indians (19,259) and Rays (18,645).
"People are upset with our on-field play, and they should be, but the bottom line is, I don't think our fan base gets enough credit for their support of this team," St. Peter said. "Not just this year but the last two years. I think it says a lot about this market that our attendance is hanging in there the way it is through a very difficult month."
Rhett Bollinger is a reporter for MLB.com. Read his blog, Bollinger Beat, and follow him on Twitter @RhettBollinger. This story was not subject to the approval of Major League Baseball or its clubs.