Twins' first option behind the plate remains Pinto
Twins' first option behind the plate remains Pinto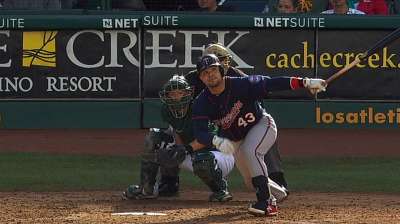 LAKE BUENA VISTA, Fla. -- Twins manager Ron Gardenhire often used to joke about how much easier his job was having perennial All-Star Joe Mauer behind the plate.
But now he doesn't have that luxury with Mauer moving to first base next season after sustaining a season-ending concussion on a foul tip while catching on Aug. 19. So Gardenhire said the Twins are looking at their options with Josmil Pinto, Ryan Doumit, Chris Herrmann and Eric Fryer as the catchers on the 40-man roster.
Pinto, who hit .342 with four homers and five doubles in 21 games in September last year, remains the most likely replacement for Mauer, but the club could still look to options outside the organization.
"You're taking an All Star out from behind the plate," Gardenhire said. "I liked Pinto when he came up, but he only played a month. I like the way he swung the bat. I liked his aggressiveness and the way he attacked. But he has a lot of things to learn about calling a ballgame and handling pitchers and working with a lot of different pitchers."
Twins general manager Terry Ryan confirmed he had interest in Jarrod Saltalamacchia before he signed a three-year, $21 million deal with the Marlins. And A.J. Pierzynski confirmed to reporters at the Winter Meetings that he was offered a two-year deal by the Twins, but opted to sign with the Red Sox on a one-year deal because it gave him a better chance of winning a World Series.
But the free-agent market for catchers has dried up, according to Ryan, and it appears they would have to trade for a backstop if they don't turn to Pinto. So it seems more likely Pinto will get the chance to be the club's everyday starter with Mauer available to help mentor him.
"As far as knowing the hitters, Joe knows them," Gardenhire said. "He'll be able to help us out a lot of times with how we pitch people and all those things. So he'll be a good influence. His mind will be there to pick."
Rhett Bollinger is a reporter for MLB.com. Read his blog, Bollinger Beat, and follow him on Twitter @RhettBollinger. This story was not subject to the approval of Major League Baseball or its clubs.