Presley looks to prove he deserves to start in center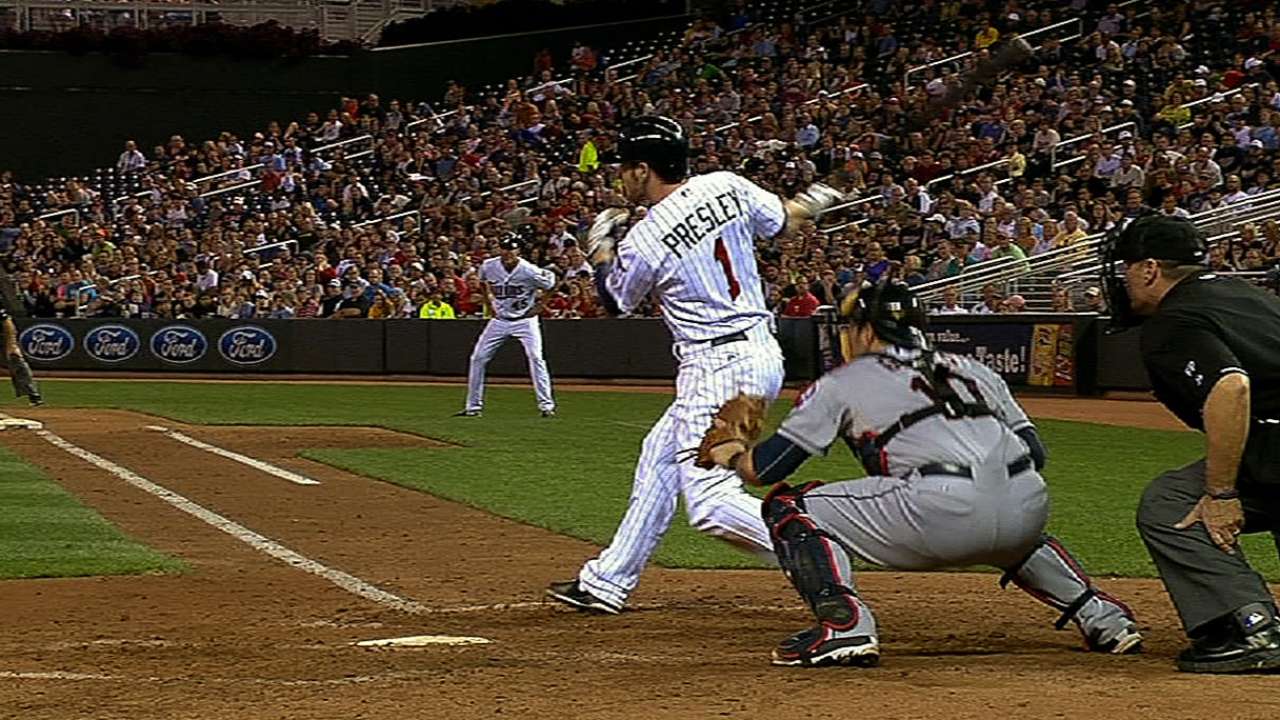 FORT MYERS, Fla. -- Alex Presley had been with the Pirates since they picked him in the eighth round out of the University of Mississippi in the 2006 First-Year Player Draft. So the Aug. 31 trade for first baseman Justin Morneau that brought Presley from Pittsburgh to the Twins caught him somewhat by surprise.
"It was one of those things," Presley said. "I was with Pittsburgh my whole career prior to that, I was kind of sad to leave but at the same time having the opportunity here and just trying to make the most of it. I had a pretty good month after the trade. A good chance to get everyday at-bats, so that's all you can ask for."
In 28 games with the Twins in September, he hit .283 with a .699 OPS, making 27 starts in center field. That helped him prepare for a new season with his new team.
"It was definitely a big help, because I didn't have to come in the spring and meet everybody," Presley said. "The coaching staff had seen me play. I know what to expect from certain staff members, they know what to expect from me. So it was a good chance to kind of get my feet wet with the organization and kind of get to know, especially going into the offseason, we're on the same page and we know what needs to be done and what needs to be worked on."
Presley is expected to be the Twins' Opening Day center fielder. But, he's taking nothing for granted.
"They said I'm competing," he said. "I'm always competing regardless. You're always competing with somebody in baseball. So it's no different from any other spring. Competition's a good thing. I expect to be the one out there Opening Day. That's the way I'm going about it. Having guys beside me that are also capable definitely pushes you in times like this and that's what you need sometimes to be better. So I think that will be a positive thing for me."
The Twins like what they have seen from him. But there is more they would like to see.
"The one thing that we talked about is he needs to be a little more aggressive [with] baserunning," manager Ron Gardenhire said. "We kind of like that no-fear type thing. ... He was a little more cautious than we like to see as far as attempting to steal. We give them the green light and we just want to see him be a little more aggressive this year.
"But that was kind of [because he got] thrown over to another organization late, not wanting to make mistakes. We all understand that. But hopefully this spring we're going to open it up here and see how he does and go from there. But definitely he can play. He can hit, he can do all those things. It's a good opportunity for him. Good kid."
Presley, who has hit .264 with a .715 OPS in parts of four big league seasons, agrees with his manager. He knows there are things that can improve his overall game, and set him apart. He's working with coach Paul Molitor on his baserunning.
"It's been good," Presley said. "If he has something to say, you listen. He obviously had a great career. So he's one of those guys, you try to pick their brains and see what they got, and try to put some of his philosophies into your game to try to improve as best you can. He's definitely a tool that I've been trying to use already and I'm sure I'll continue throughout spring to improve."
Molitor has seen aspects which Presley can work on. The Hall of Famer stole 504 bases in his career. He knows how important baserunning can be to a team's success.
"I definitely have my general feelings about baserunning and its importance of winning and losing over the course of a season," Molitor said. "If you had to prioritize what made a winning team, most people would probably say your starting pitching is going to be pretty important. But I think people would be surprised how many games baserunning influences, especially as we've come off the home run era. Playing in a big ballpark like Target Field, it's going to be something that we need to do better.
"Presley is a guy who's a gifted runner. He's well above average, and yet he's never really had the comfort of knowing how to steal bases. And so between now and Opening Day, how much he plays will depend on how things play out. But I want to eliminate some of the fear he has of baserunning."
Presley's season high in the big leagues is nine stolen bases, which he accomplished twice, once in 2011 in 12 attempts over 52 games and in 2012 in 16 attempts over 104 games. He believes he can raise that mark substantially.
"It's good having goals," he said. "A target number would be 30 or so I would say. That's a good target number. Goals change as you go through the season. I don't plan on being below the pace for that number to where I have to change it to something smaller. To have an idea of what you're looking to do instead of just going out there is helpful in everything. It's helpful in the batter's box for what you're trying to do. So it's good to have goals, but I feel like if I work on what's going to help me succeed, the goals will be accomplished."
Maureen Mullen is a contributor to MLB.com. This story was not subject to the approval of Major League Baseball or its clubs.