Meyer knows he has to work on offspeed offerings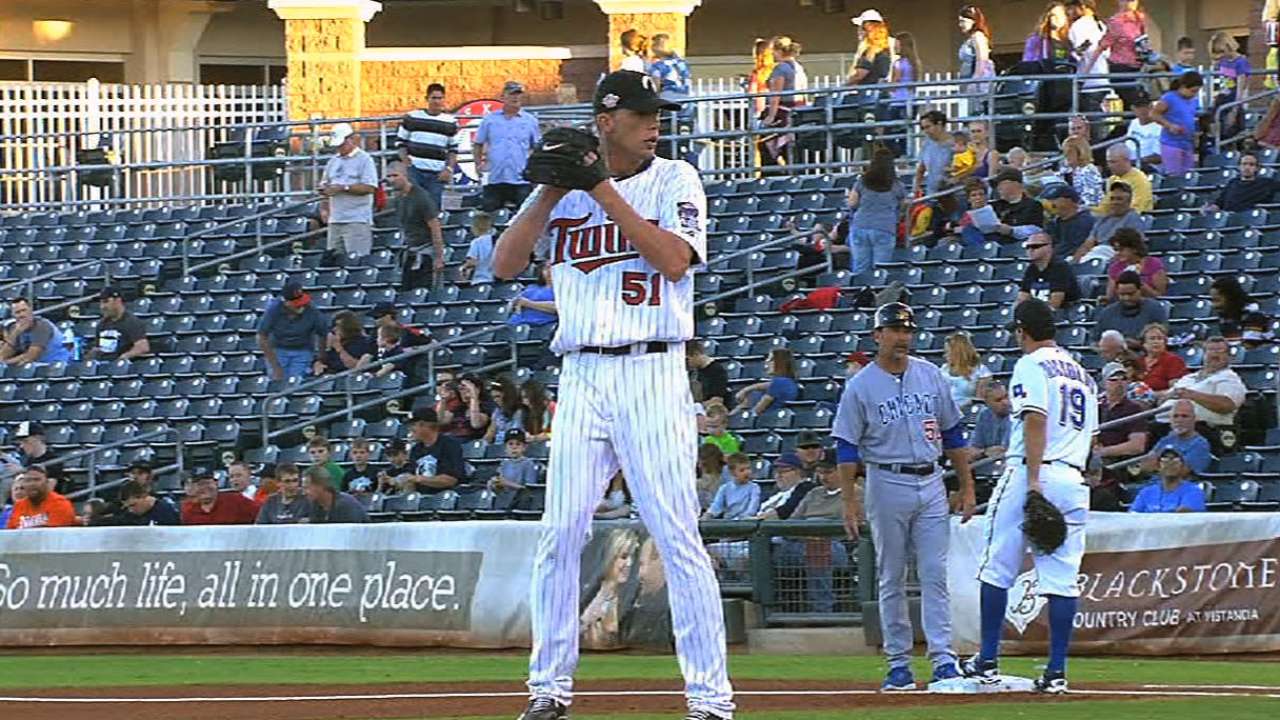 PORT CHARLOTTE, Fla. -- Twins right-hander Alex Meyer lit up the radar gun with his fastball in his Grapefruit League debut against the Rays on Sunday, but he only threw three offspeed pitches in his two innings of work.
Meyer, ranked as the No. 28 overall prospect by MLB.com, gave up two runs (one earned) on four hits with one strikeout. The 6-foot-9 right-hander's fastball reached as high as 98 mph, but he didn't fool too many Rays hitters.
"I felt they were trying to get on the fastball, and that's what I was trying to emphasize today, working on locating my fastball," Meyer said. "For the most part, I thought I did fine with that. The second inning, I was probably starting to get tired and left the ball up a little bit."
Twins manager Ron Gardenhire was impressed by Meyer's velocity, but the skipper said he wants to see the 24-year-old mix in more curveballs, sliders and changeups his next time out.
"He was pumped up the first time out throwing a lot of fastballs," Gardenhire said. "It's a good fastball, but they can hit fastballs, so you have to spin it, too. All these guys going out on the mound for the first time, you hopefully let them get that out of the way and you go from there."
Meyer is the club's top pitching prospect, but he'll likely start the season in the Minors after posting a 3.21 ERA with 84 strikeouts in 70 innings at Double-A New Britain last year. He said the key for him this season is improving his changeup, which he only threw once on Sunday, getting the Rays' Jeremy Moore to ground out to first base in the eighth inning. Meyer added that he worked on his changeup with special instructor Eddie Guardado earlier in the spring.
"It's tough, because you don't want to go out there and give up any runs, that's never fun," Meyer said. "They were trying to get on the fastball early, so next time, I'll have to mix in a little more offspeed. I threw one changeup and a couple curveballs, but for the most part, it was just fastballs, trying to locate that."
Rhett Bollinger is a reporter for MLB.com. Read his blog, Bollinger Beat, and follow him on Twitter @RhettBollinger. This story was not subject to the approval of Major League Baseball or its clubs.