Buxton flashes power with first spring homer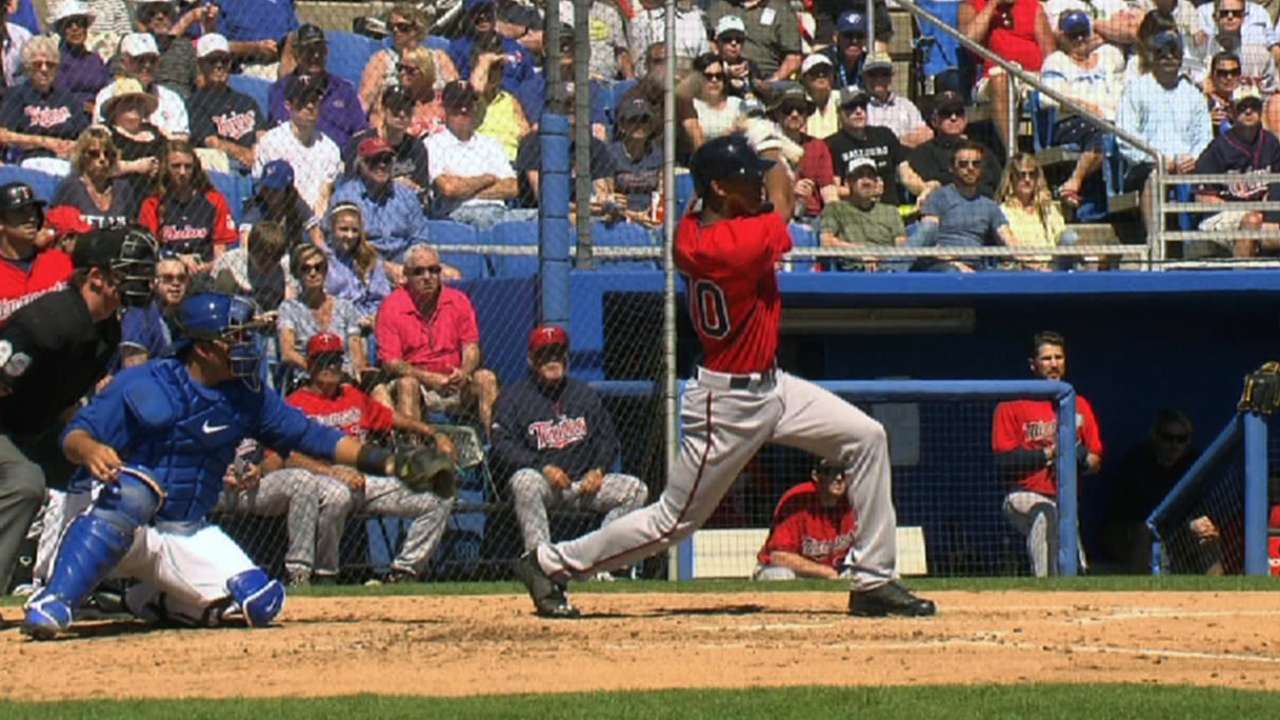 DUNEDIN, Fla. -- Byron Buxton's first stint in big league camp may be winding down, with a round of Spring Training roster cuts potentially coming soon. But he said Saturday that he's become more comfortable in big league camp the last week or so, and he looked the part at the plate in the third inning Saturday afternoon at Florida Auto Exchange Stadium.
Buxton, the top prospect in baseball, swatted his first homer of the spring to left-center field off Toronto right-hander Drew Hutchison, driving in Max Kepler and giving Minnesota a 2-0 lead. While the center fielder is often praised for his game-changing speed -- he stole 55 bases in 125 Minor League games last season -- the deep shot into the trees was a reminder that he also possesses considerable power at the plate.
The 20-year-old Buxton said the homer was just a matter of putting a good swing on a hanging slider, but Twins manager Ron Gardenhire called it a "big home run." Buxton hit 12 homers to go along with 19 doubles and 18 triples between Class A Cedar Rapids and Class A Advanced Fort Myers in 2013, giving him a .520 slugging percentage on the year.
Buxton entered Saturday's game hitting .143/.143/.214 this spring and finished the day 1-for-5 with a strikeout. He played for the second day in a row Saturday, as Gardenhire said he wanted to see as much of his talented young players as possible before they're sent over to Minor League camp.
"We're getting pretty close to deadlines on player movement and all those things, and I don't want to take any chances of not getting at least a look at them and letting them have some at-bats," Gardenhire said. "If they ask me to send them out or something like that, get them back over there where they're playing every day, I want to have my look at them. The only way I can do that is play them.
"I'm getting to know them a little bit, getting to see them play firsthand rather than somebody else's reports. That's it. Expectations? None. I just let them play and see what happens."
Buxton said he knows that he hasn't established himself quite yet, and he wants to cut down on his strikeouts, get on base more often and put himself in position to score more runs. More than anything, though, Buxton is just hoping to soak up as much of the experience as he can in his first Major League Spring Training.
"I just like coming out here and seeing a lot of competition, trying to see what I need to improve on and get myself better at," Buxton said. "That's what I'm still working on here. I'm going to keep working hard."
Adam Berry is a reporter for MLB.com. Follow him on Twitter at @adamdberry. This story was not subject to the approval of Major League Baseball or its clubs.