Twins trim Spring Training roster by eight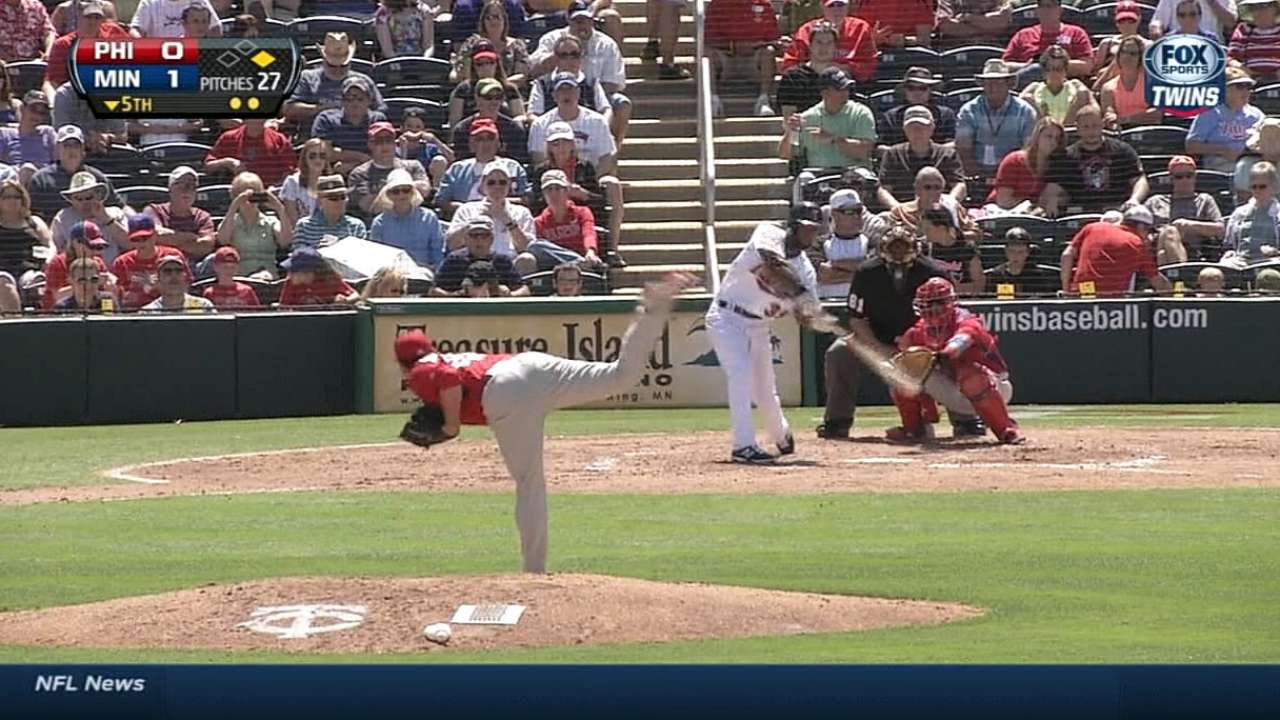 FORT MYERS, Fla. -- The Twins announced their second round of cuts on Sunday, optioning three players to Triple-A Rochester and reassigning five others to Minor League camp.
The trio optioned to Rochester consisted of left-hander Kris Johnson, catcher Eric Fryer and infielder Danny Santana, while the club reassigned left-hander Sean Gilmartin, outfielders Darin Mastroianni and Jermaine Mitchell, and infielders James Beresford and Brandon Waring to Minor League camp.
Following the eight moves, the Twins have 40 players remaining in big league camp, including 10 non-roster invitees.
Prior to Sunday's roster moves, Mastroianni was believed to be in the running to start the season with the Twins as an extra outfielder. He may still eventually assume that role, but the club wanted him to play on an everyday basis for the time being.
"He needs at-bats. He needs to get the bat going," said assistant general manager Rob Antony. "He missed a lot of time last year and I think he just needs to get his timing down a little more. Rather than playing every other day or getting an at-bat or two here, he can go down and play every day."
With Mastroianni temporarily out of the picture, the Twins are left with Alex Presley and Aaron Hicks to battle for the center-field job. Antony said that if Hicks does not end up landing the starting job out of camp, he would likely return to Rochester to continue playing in an everyday role. Presley, however, could stick around as an extra outfielder, even if he loses out on the starting gig.
Still, Antony has high hopes that Mastroianni can regain his offensive form and get back into that discussion sooner rather than later.
"If he goes down and swings the bat and gets on a roll, I still think he has a role on the Major League team," Antony said. "He can do a lot of things -- play all the outfield positions, steal bases for you, pinch-run late in games, defense late in games, right-handed batter on a predominantly left-handed team. So if he gets going offensively, he can find his way back up here before long."
Two other notable names among Sunday's cuts were Santana and Gilmartin, the club's No. 12- and No. 13-ranked prospects, respectively.
Santana's offensive skill set was on full display this spring, as he hit .391 (9-for-23) with two triples, three doubles and three stolen bases in 10 games. He spent all of last season with Double-A New Britain, where he posted a .297/.333/.386 slash line with 10 triples, 30 stolen bases and 45 RBIs, though he also made 32 errors at shortstop and has had a few miscues with the Twins this spring.
"[Santana] needs to eliminate some of the careless mistakes," Antony said. "He shows range, he can run, he can steal a base, he can hit from both sides of the plate and he's got a little pop. I was impressed; I thought he did very well. That's the biggest thing. He just needs to be focused, consistent and make the routine plays."
As for Gilmartin, the pitching prospect acquired from the Braves this winter in exchange for catcher Ryan Doumit, he goes to Minor League camp after posting a 1.50 ERA in four appearances this spring. He allowed one run over six innings of work, while striking out five and walking two.
Paul Casella is a reporter for MLB.com. Follow him on Twitter @paul_casella. This story was not subject to the approval of Major League Baseball or its clubs.