Opening Day 'just another game' for Nolasco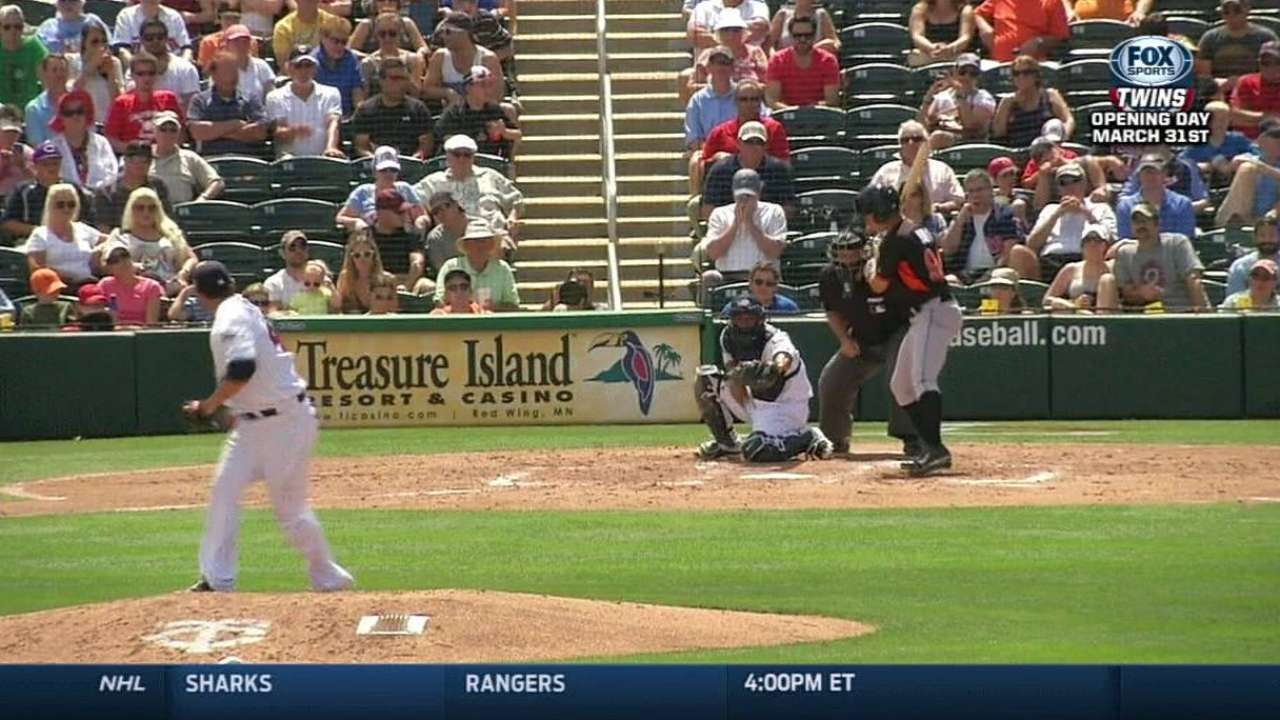 FORT MYERS, Fla. -- To Twins right-hander Ricky Nolasco, pitching on Opening Day will be just another start. Not that he's taking the recently assigned honor lightly; that's just how Nolasco approaches the game.
That's also exactly how he approached Sunday's Grapefruit League game against the Marlins, in which he limited Miami to two runs on seven hits over five innings, walking none for the third straight start. Despite taking the mound for the first time since being named Minnesota's Opening Day starter by manager Ron Gardenhire, Nolasco said Sunday's Spring Training outing felt no different than any other -- including that upcoming Opening Day start.
"It's just another game," Nolasco said of taking the ball for the Twins' season opener against the rival White Sox. "You don't make too much about it. You go out there and do what you got to do. Set the tempo for your team early, get them back in the dugout and try to score some runs. I don't put too much thought into it, just go out there and keep doing what I need to do."
Signed to the largest free-agent deal in club history this offseason, Nolasco is in line to make his third career Opening Day start when he makes his Twins debut on March 31. He also got the Opening Day nod as a member of the Marlins in 2009 and again last season.
Gardenhire has been impressed with what he's seen thus far out of the 31-year-old right-hander, including the way Nolasco settled in on Sunday. The righty ran into some early trouble against his former team when he allowed three straight hits to start the second inning, the last of which was an RBI bunt single by Reed Johnson that put the Marlins ahead, 1-0.
Nolasco, however, quickly escaped the jam with a double play ball and another groundout, limiting the Marlins to just one run. He eventually retired seven of the final eight batters he faced, including two of the last four via strikeouts.
"He just goes about his business. He knows what he's doing there," Gardenhire said. "Nolasco is fine. We don't worry about him too much, just does his thing."
Including Sunday's outing, Nolasco has a 3.27 ERA through three Grapefruit League starts with the Twins. He's allowed four runs on 13 hits over 11 innings, and he has yet to walk a batter, while notching five strikeouts.
Paul Casella is a reporter for MLB.com. Follow him on Twitter @paul_casella. This story was not subject to the approval of Major League Baseball or its clubs.