Twins hope Hicks regains balance at leadoff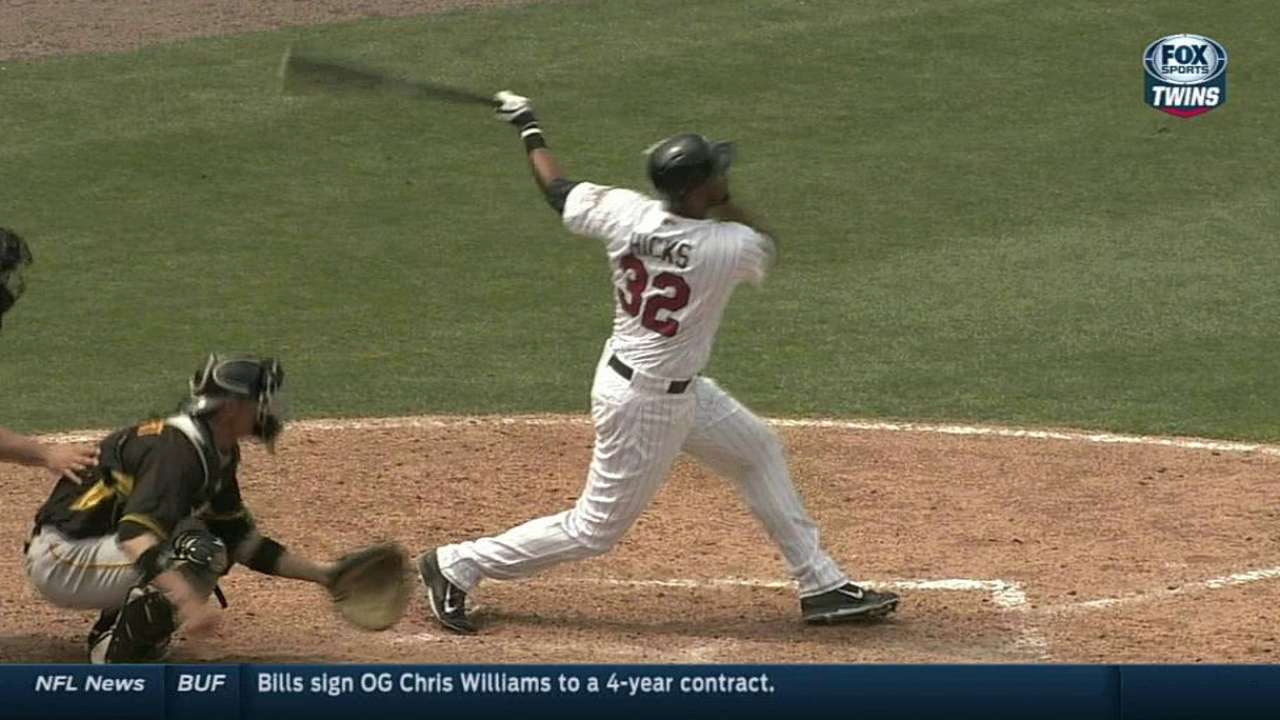 PORT CHARLOTTE, Fla. -- The leadoff spot was essentially a black hole for the Twins in 2013.
Minnesota's leadoff hitters combined to hit .225 with a .286 on-base percentage and just 10 stolen bases on the season. Much of it was dragged down by Aaron Hicks' going 2-for-43 at leadoff, but it remains a problem the Twins have not solved.
Second baseman Brian Dozier batted first against the Rays on Thursday night as the club continues the search. Center fielders Alex Presley and the switch-hitting Hicks have also seen time atop the order this spring.
"It would be nice if we had somebody we were comfortable with and thought was a really good leadoff hitter," Twins assistant general manager Rob Antony said. "We feel like we have some options in that area but probably nobody ideal you'd say is a natural fit."
The leadoff spot is not foreign to Dozier, who hit .253/.310/.462 in 74 games there last season, but the Twins see him more as a No. 2 hitter, especially after his exhibition of power last season with a club-leading 18 homers.
"He has some qualities to lead off, but he also fits well in a few different spots," Antony said. "He fits nicely in the two-hole and also fits nicely in a position where he's able to drive in a few runs. He was a run producer last year and showed off some power."
The Twins would like to see Hicks develop into a leadoff hitter, as he posted a career .376 on-base percentage in his six seasons in the Minors. But Hicks is still a work in progress, even if he appears at this point to be the front-runner to start at center field over Presley.
"If Aaron Hicks hits the way he's capable of, his on-base percentage will go up, and he can steal a base," Antony said. "You could make a case he could be the leadoff hitter. It's all going to come down to the at-bats he takes and how he handles it."
Hicks made some strides offensively on Thursday night, going 4-for-4 at the plate with a double. He is now batting .375 (12-for-32) this spring.
"It's one of those things where you have to get one side going, and the other side going, and if you can get both of them clicking at the same time, you can have days like this with two hits from each side," Hicks said after Thursday's 5-4 loss to the Rays. "If I can continue that, it'll be pretty good."
Catcher Kurt Suzuki was also moved up Thursday, hitting at the two-hole. Though Suzuki has experience at every spot over his seven-year career, he has a career .309 on-base percentage.
"He's done it in his career, but he had a .290 on-base [percentage] last year, and that probably isn't going to work," Antony said. "But I think he's taking some good at-bats and showing some bat control in Spring Training."
Rhett Bollinger is a reporter for MLB.com. Read his blog, Bollinger Beat, and follow him on Twitter @RhettBollinger. This story was not subject to the approval of Major League Baseball or its clubs.