Prospect Pinto makes Twins as backup catcher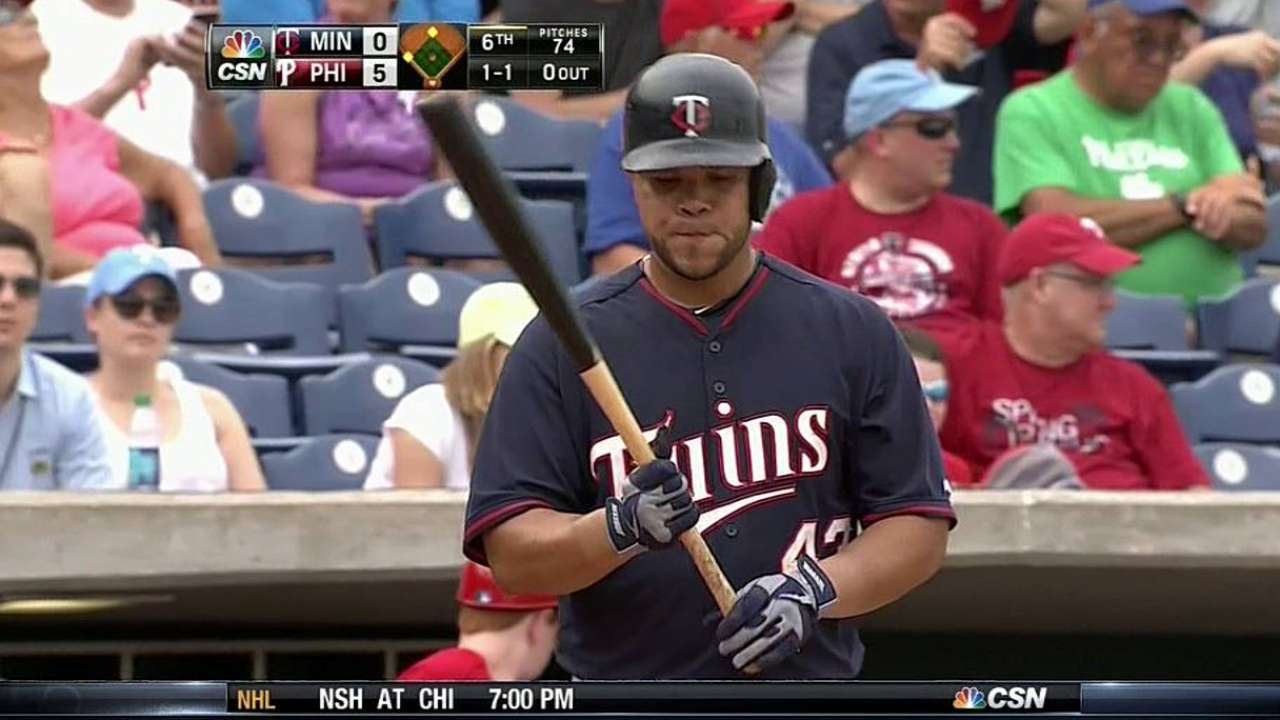 FORT MYERS, Fla. -- Josmil Pinto's bat was too much for the Twins to pass up.
Pinto made the club as the backup catcher to Kurt Suzuki, as the Twins will carry two catchers to open the season.
Pinto, 24, still has to make improvements defensively, but he hit .342/.398/.566 with four homers, five doubles and 12 RBIs in 21 games as a September callup. It came after the Venezuela native hit .309/.400/.482 with 15 homers and 74 RBIs in 126 games between Double-A New Britain and Triple-A Rochester last season.
The Twins decided it was worth keeping Pinto on the big league roster for his bat even though he won't get the playing time he would've received as the everyday catcher for Rochester. The Twins also believe it'll be beneficial for Pinto to work with Suzuki and bench coach Terry Steinbach on his game-calling and defensive skills in the Majors.
"We're most comfortable with him as the other catcher," Twins assistant general manager Rob Antony said. "He's got offense, I think he's improved some defensively and I think he can learn a lot from Steinbach and Suzuki just being around this club and being with the big league club."
Pinto said he was excited to make the team and is looking forward to improving his defense this season.
"I feel good," Pinto said. "This spring, I worked a lot. Kurt and I have a good relationship, so I've worked with him. And Steiny, he knows a lot about catching, so I'll be able to ask a lot of questions and learn from him."
Rhett Bollinger is a reporter for MLB.com. Read his blog, Bollinger Beat, and follow him on Twitter @RhettBollinger. This story was not subject to the approval of Major League Baseball or its clubs.