Gardenhire likes what he sees from pitchers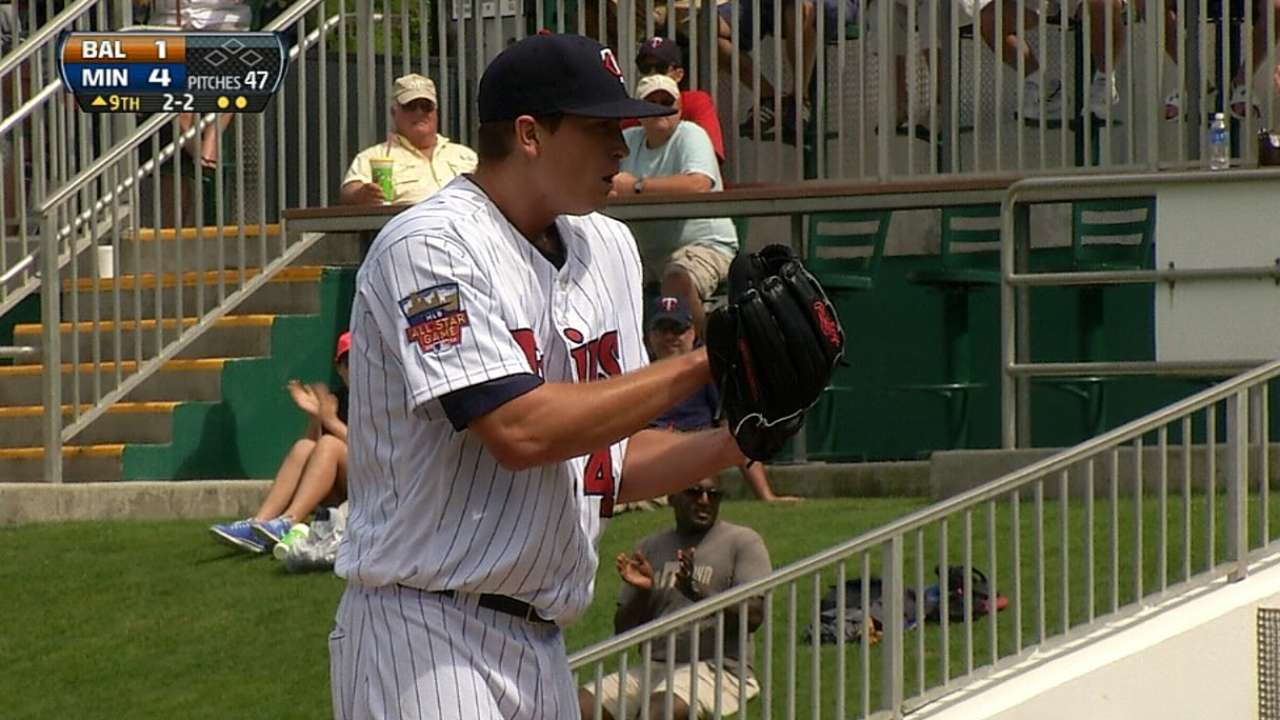 FORT MYERS, Fla. -- Mike Pelfrey, Scott Diamond and Kyle Gibson all pitched so well during their three-inning stints in the Twins' 4-1 win over the Orioles on Tuesday that it caused Twins manager Ron Gardenhire to joke he'll start a new trend of using starting pitchers for three innings each during the regular season.
Pelfrey was originally scheduled to start in a Minor League game after his start Monday was rained out, but he ended up starting against the Orioles and was followed by Diamond and Gibson. Pelfrey and Gibson each tossed three scoreless innings, while Diamond gave up one run on two hits over three frames.
"We're gonna throw three starters every day for the rest of the year," Gardenhire joked. "I already told a couple guys in there, every third day you're going three innings. I told [closer Glen] Perkins to take a hike. We don't need him. But they were all crisp and threw the ball really nice. And we had some good defense behind them."
Pelfrey was solid on an extra day of rest, as the right-hander allowed just two hits over three scoreless innings and struck out four, including the side in the first inning.
"I feel good," Pelfrey said. "I have one more start here on Saturday and I'll pitch on short rest, but I feel good. Obviously, I'll take advantage of my next start and build up some arm strength."
Diamond and Gibson also fared well, but Gardenhire still hasn't announced who will be the fifth starter in the rotation, although Gibson is considered the front-runner. Gardenhire said he expects to have the roster finalized on Friday.
Diamond, who has a 5.29 ERA this spring, is out of Minor League options and will be exposed to waivers if he doesn't make the club. He could also be moved to the bullpen, but with fellow starter Samuel Deduno already pitching in relief, it doesn't appear likely.
"I think he knows even if he doesn't make it here, he'll get an opportunity somewhere else because starters are hard to find and he's had some success in the big leagues," Gardenhire said. "So we'll see what happens as we go along. He's worked his butt off and has been pitching well."
Gibson has fared better than Diamond this spring, posting a 2.20 ERA in five games. He struggled with a 6.53 ERA in his first 10 starts in the Majors last year, but Gibson believes he's learned from that experience and is ready for to succeed in the big leagues.
"I think I've been pretty satisfied," Gibson said. "I've made the adjustments I've needed to make and have been more aggressive. I've been making better quality pitches and not falling behind in the count."
Rhett Bollinger is a reporter for MLB.com. Read his blog, Bollinger Beat, and follow him on Twitter @RhettBollinger. This story was not subject to the approval of Major League Baseball or its clubs.