Nolasco's last start helps prep for regular season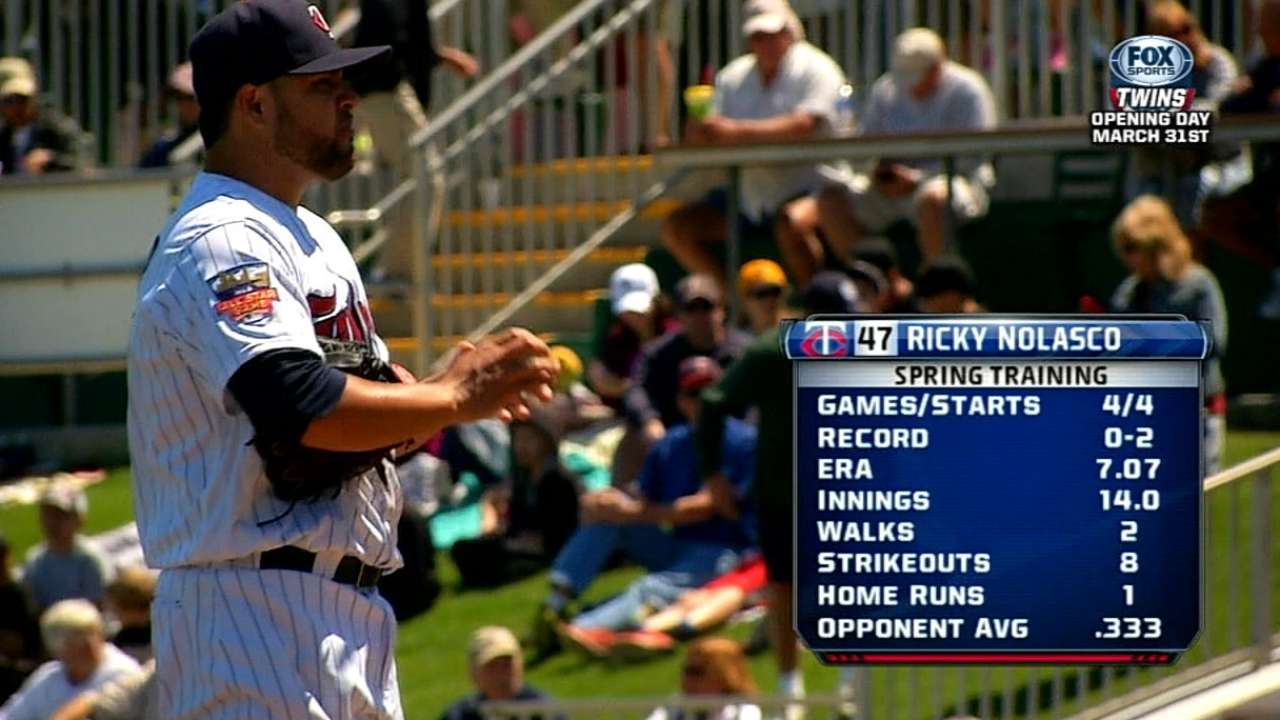 FORT MYERS, Fla. -- With whipping winds and the temperature hovering around 60 degrees at the start of Wednesday's 1:05 p.m. ET game between the Pirates and Twins, it was anything but typical weather for a Spring Training contest.
However, the unusual conditions didn't bother Twins right-hander Ricky Nolasco, who dominated in his final tuneup before he takes the hill Opening Day against the White Sox in Chicago. He allowed just one hit and one walk in four innings. He also struck out three.
"Today was a good way for me to get ready for the cold," Nolasco said. "The ball was a little tough and dry. I was actually kind of glad it was like that. I was blowing on my hands a little bit to keep them warm. It will definitely be like that in Chicago."
Twins pitching coach Rick Anderson felt like it was Nolasco's most complete start of the spring.
"He threw the ball down hill better. One thing we have been waiting for him to do is really get that fastball command," Anderson said. "He did that today, which was huge."
In five starts this spring, Nolasco tossed 18 innings, allowing a total of 11 runs and 20 hits. He also struck out 11 and walked just three.
Twins manager Ron Gardenhire said Nolasco came to him after the fourth inning, telling him he felt ready after tossing just 56 pitches.
"I didn't want him to get too high of a pitch count. Once he got his work in and felt comfortable, we knew he was ready," Gardenhire said. "He is a veteran, so once he knows, you trust him."
Now that Nolasco's first Spring Training with the Twins is officially over, he's ready for the excitement of the regular season.
"You get to this last week and everyone can't wait for the beginning of the season and the regular-season atmosphere, Nolasco said.
"It is an honor to take the ball any time you get it for Opening Day. I am just going to go out there and do what I've been able to do throughout my career."
Quinn Roberts is a reporter for MLB.com. This story was not subject to the approval of Major League Baseball or its clubs.