Twins pare Diamond, Presley, Parmelee from roster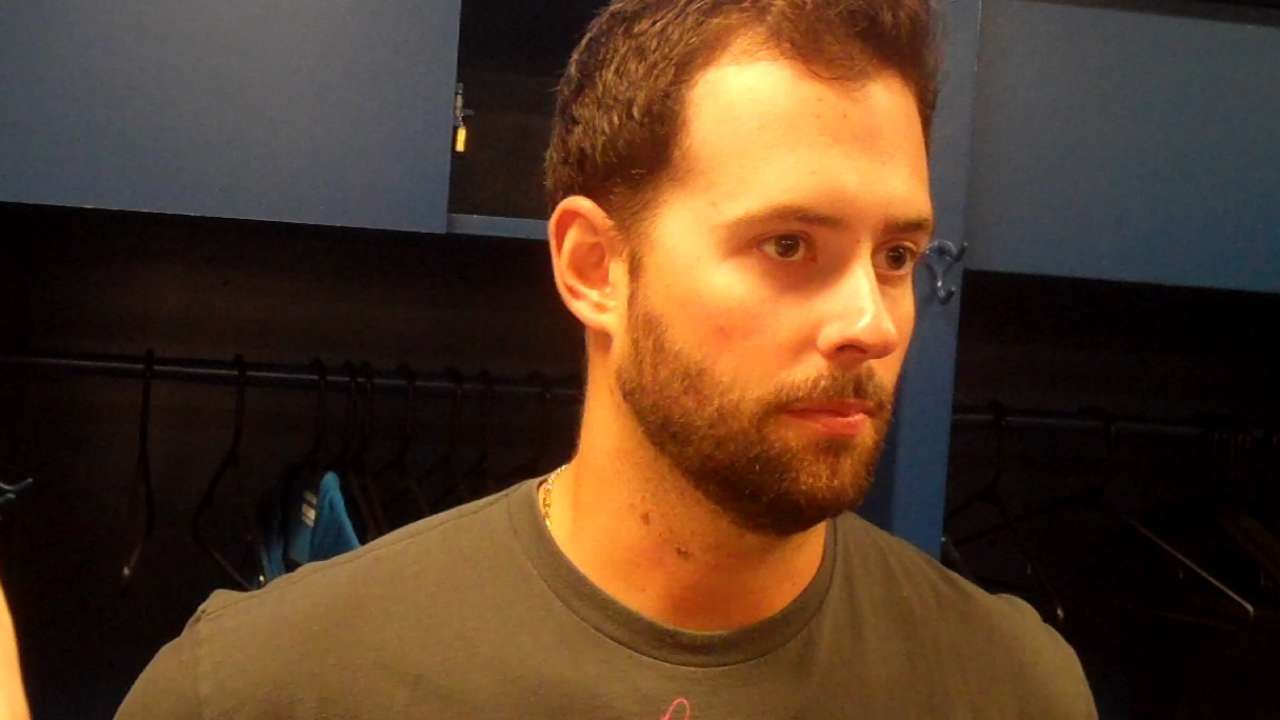 FORT MYERS, Fla. -- The Twins made a series of moves on Thursday that essentially pares the roster to the 25 players with whom they will start the season.
Left-hander Scott Diamond and outfielders Alex Presley and Chris Parmelee were placed on waivers. Presley was claimed by the Astros, Diamond will take 24 hours to decide whether to accept a Minor League assignment or try to find a Major League job, and Parmelee will be sent to Triple-A Rochester.
Assistant general manager Rob Antony would like Diamond to remain in the organization, but Diamond would have to make some adjustments to do so.
"I think there are some things he may need to do or change," Antony said. "He needs to be sharper -- probably walked too many. He needs to improve command and control. He's probably got to get some confidence back. In 2012 he pitched with confidence, but last year ... Sometimes he's just hard on himself. Gets frustrated, gets upset with himself when he walks guys and makes mistakes. I think he just needs to go down there and be the best guy down there so when we need a starting pitcher, he puts himself in position to get another shot."
As for Parmelee, "[He] needs to regroup," Antony said.
"He hasn't been getting the job done. He's had opportunities, but we need him to be a run-producer. He needs to be a profile guy who can play first base, play the corner outfield positions and drive in runs. To me he's become way too passive at the plate -- taking pitches, taking first-pitch strikes, fastballs down the middle. He needs to go up there with the mentality that he can do some damage, he can be aggressive. You need to take quality at-bats. We're just looking for him to swing at a strike. Try and hit it hard. Take your chances.
"You can't always control where it's going to go, but you can control ... If you take pitches, you're putting it in the hands of the umpire. I don't care if you disagree [with him, saying], 'I thought that ball was inside.' Well, he didn't, you're out. Take control of your own at-bats. If you're going to be out, go down swinging.
"That's the biggest difference that I see from when he's successful to when he's scuffling. I've seen that difference just this spring. The first week or two, he was swinging the bat pretty good, he looked like that guy. I thought, this guy's turning the corner. ... The last week and a half, he looks like a player who is ... I don't want to say playing scared, but doubting, playing tentative, taking pitches inside. That's not what he does when he's successful."
It appears that infielder Jason Bartlett, who came to Spring Training as a non-roster invitee, has accomplished his goal of returning to the Twins for the first time since 2007.
"He's a good athlete," Antony said. "When you get to the tail end of your roster, the manager needs to sort of determine how he's going to use different guys. And it doesn't make much sense to fill out a roster any way other than how he's going to use them. Just like when we used 13 pitchers and went with 12 position players, this is a situation where we're going to go with 13 position players and he envisions how he would use him, how he would use Bartlett. He thinks he can use him a lot of different ways, and he means probably more to the club than maybe some other players would. Just his veteran presence and leadership and other intangibles. As we're trying to maybe change that clubhouse environment a little bit, I think he can be part of doing that."
As a nine-year veteran, Bartlett can bring those intangibles to the team with which he made his big league debut in 2004.
"[Those types] know how to play, know what it takes," manager Ron Gardenhire said. "He's been around here before, he knows what we expect. We need some of that. We're a little lost out there right now. We're trying to figure it out."
With the moves, the Twins have 26 players in camp. Catcher Dan Rohlfing will likely be reassigned to the Minor Leagues.
Maureen Mullen is a contributor to MLB.com. This story was not subject to the approval of Major League Baseball or its clubs.