Colabello follows heart, finds place in big leagues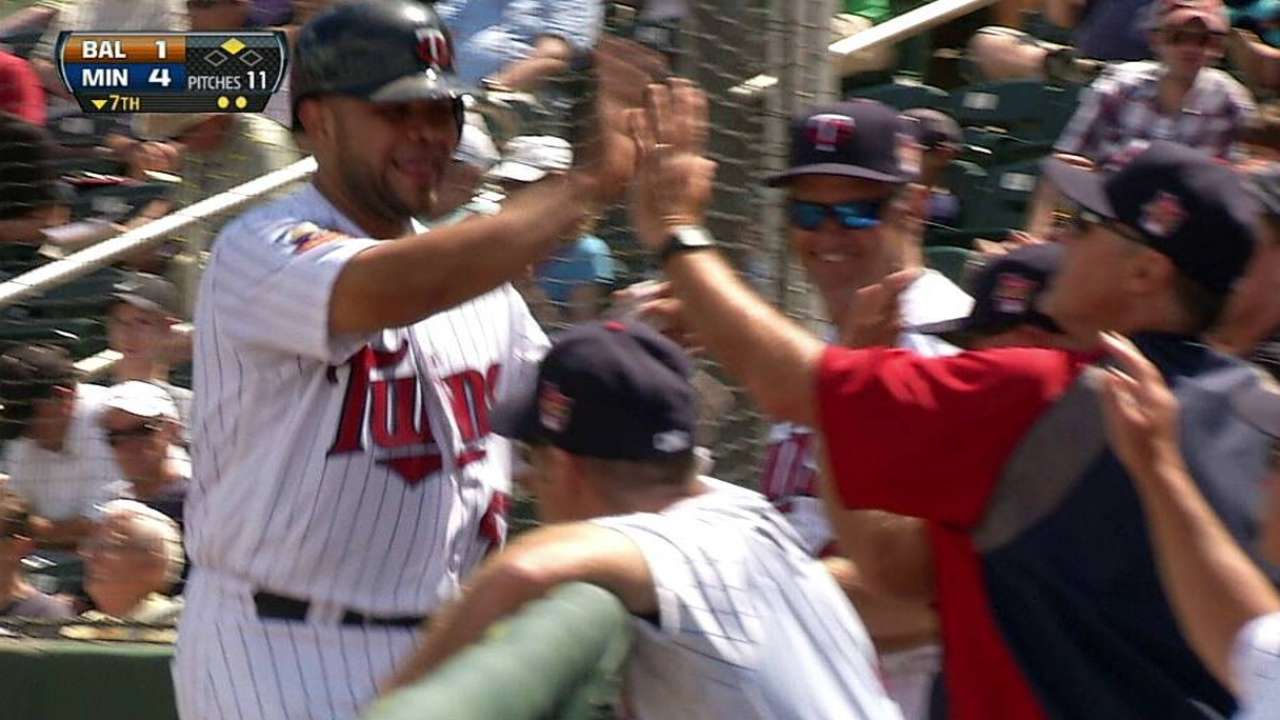 CHICAGO -- Chris Colabello could've been a richer man, playing in South Korea this season, but said he couldn't be any happier being a part of Opening Day for the Twins on Monday.
Colabello, who turned down an offer worth roughly $1 million to play in the Korean Baseball Organization in late December, instead made the Twins as a backup first baseman and designated hitter. He was also in the lineup on Monday, batting fifth and starting at DH against White Sox left-hander Chris Sale.
"It's pretty awesome -- there's really no other way to say it," Colabello said before going 2-for-4 with a double in the 5-3 loss. "Obviously, I'm excited and glad they have faith in me to be here and put me in there. It's one of those things, where I just to try to be myself every day. When I do that, things work out pretty good."
Colabello added that the decision to remain with the Twins was ultimately an easy one, even though he'd be making roughly double the money in Korea than he would in the big leagues with the Twins.
"My heart was here," Colabello said. "I believed I could be here. I believed I had something to offer here. If not, I definitely would've gone over there. This was what I wanted to do. I've always wanted to be in the big leagues since my earliest memories. I don't think my first goals were to eat, drink or breathe. It was to make the big leagues."
Twins assistant general manager Rob Antony said it was up to Colabello whether to accept the offer to play in Korea, but ultimately Colabello chose to chase his dream of being a big leaguer. It's been a long road for Colabello, who played seven seasons in the independent Can-Am League before joining the Twins organization in 2012.
Colabello has excelled in the Minors, and was named the International League MVP last season at Triple-A Rochester, but struggled as a rookie in the Majors last season, hitting .194 with seven homers and 17 RBIs in 55 games.
"For me, it's a great story for a guy who has persevered as long as he has and had some great years in the independent leagues," Antony said. "He didn't get a chance with a Major League organization but when he did, he took advantage of it. Any other year, he would've been our Minor League Player of the Year. So he's an important guy with some right-handed power. We need offense."
Colabello, 30, made the club after hitting .349/.462/.512 with a homer in 23 games in Spring Training, and will be mixed into the lineup at DH along with Jason Kubel. But Twins manager Ron Gardenhire said it won't be a platoon with Colabello only facing left-handers.
"Kubel actually stays in against lefties pretty good, but [Sale] isn't your normal lefty, he's pretty filthy," Gardenhire said. "So I'm not worried about Kubel against lefties. And there will be some matchups where Colabello will face righties. So we'll make out lineups we think are good for that day instead of left-right."
Rhett Bollinger is a reporter for MLB.com. Read his blog, Bollinger Beat, and follow him on Twitter @RhettBollinger. This story was not subject to the approval of Major League Baseball or its clubs.