Defensive lapse a rare sight for Plouffe in '14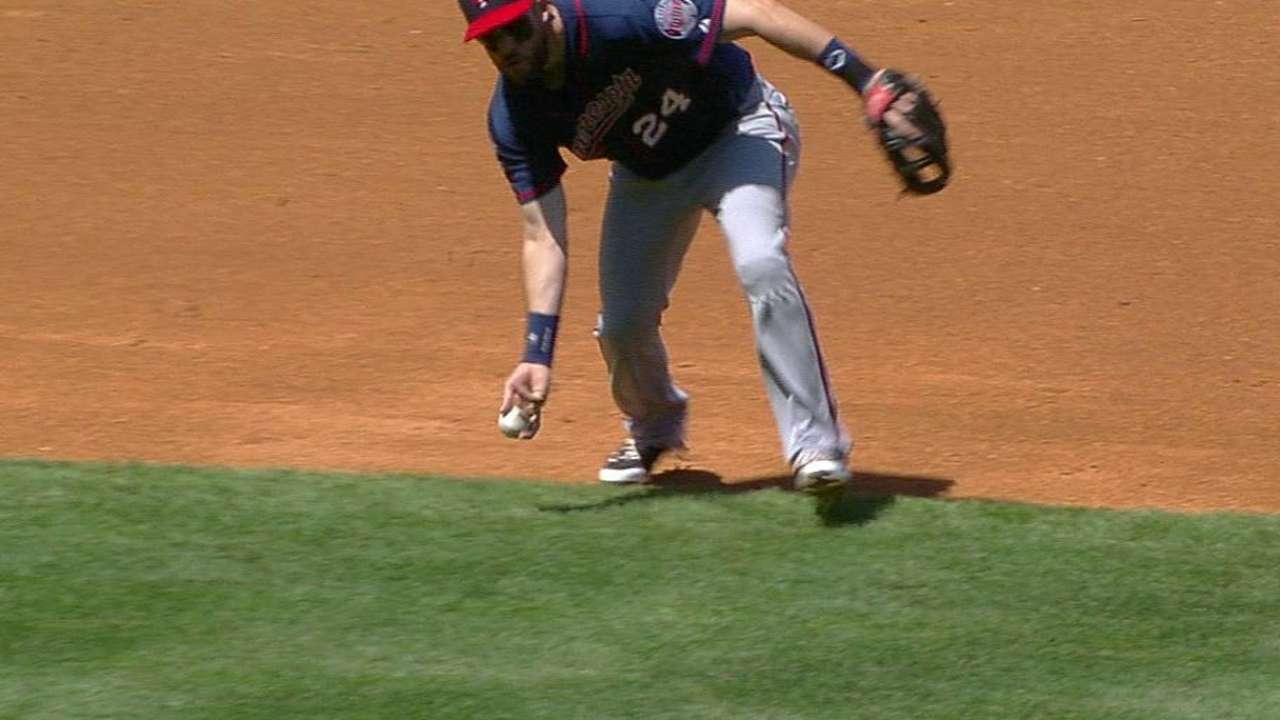 MILWAUKEE -- Trevor Plouffe had a rough night defensively against the Brewers on Monday, but that has been a rare occurrence for the Twins third baseman, who had committed just four errors in 48 games prior to the 6-2 loss.
Rickie Weeks hit a bouncer with two outs in the seventh that went under Plouffe's glove as he tried to stab it, and one batter later, a wild throw on a slow roller by Jean Segura pulled first baseman Joe Mauer off the bag and led to an unearned run.
"Trying to come get that ball from Rickie, I shuffled my feet to avoid an in-between hop, and I ended up creating an in-between hop for myself, which is not what you want," Plouffe said Monday night. "The ball that Segura hit, I just rushed the throw. That's it. I sailed it over. I knew I could have gotten him at first with a good throw."
Plouffe was also in the mix when Segura's bunt single leading off the fourth opened the door for a two-run rally to break a scoreless tie. Both player and manager Ron Gardenhire said Plouffe should have been playing closer instead of retreating closer to the bag after Segura swung on a 2-0 pitch.
"He's one of those guys, there's a handful of them, who seem to look you in and then try to hit it by you, and when you move back, they bunt," Plouffe said of Segura. "Alexei Ramirez is another guys who does that. Alcides Escobar is another guy that does that. He's one of those players, and he took advantage of it tonight."
Added Gardenhire: "That's not supposed to happen. You can't back up there. … We know he bunts, it's all over, and we talked about it. You get two strikes on him, you back up, and until that point, you stay in there. Trev backed up, and he dropped the bunt down. That's kind of a cardinal sin."
Still, Plouffe has made some strides on his defense. His defensive wins above replacement, a stat that accumulates over the course of the year, was 0.2 last year, and he is already at 0.3 this year. He had been assigned negative value each of the preceding two seasons. Fangraphs considers Plouffe the fifth best third baseman in baseball in terms of runs saved, just a fraction behind fourth place.
JR Radcliffe is a contributor to MLB.com. This story was not subject to the approval of Major League Baseball or its clubs.