Fast and furious: Twins take Louisville fireballer Burdi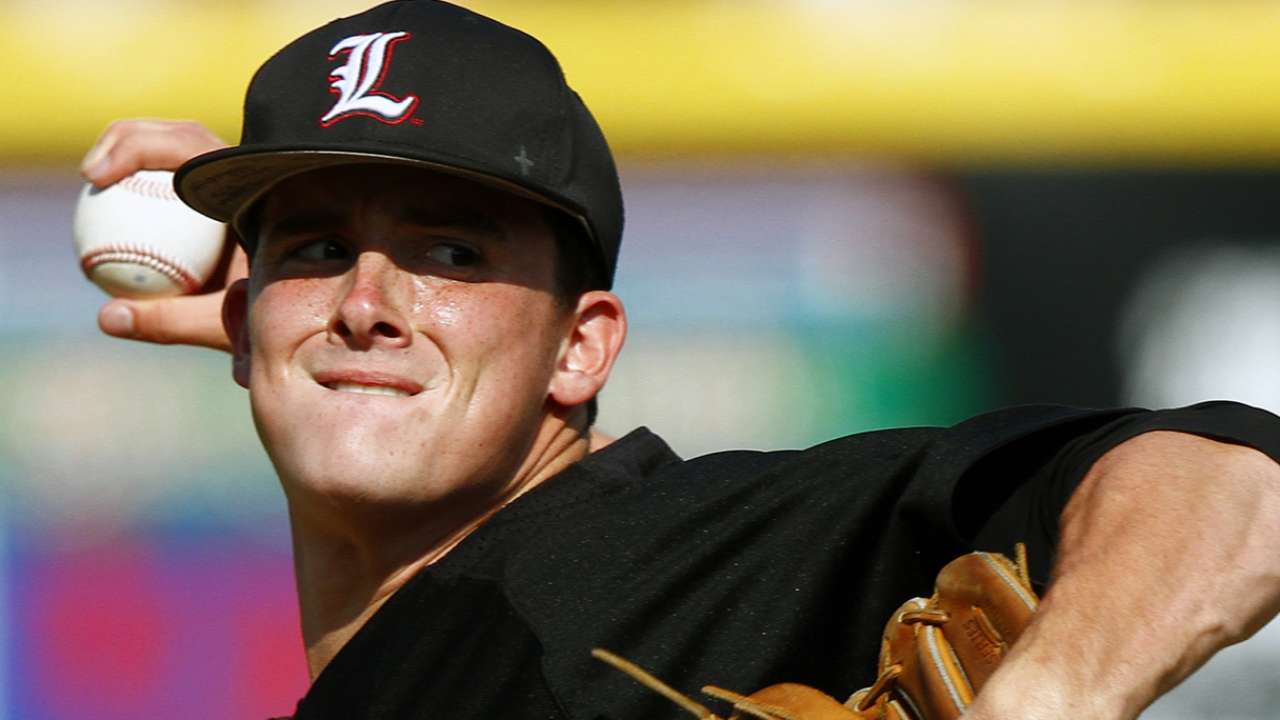 MINNEAPOLIS -- Three years after originally drafting him out of high school, the Twins selected hard-throwing right-hander Nick Burdi from the University of Louisville with the No. 46 overall pick in the second round of Thursday's First-year Player Draft.
Burdi, ranked as the No. 34 overall Draft prospect by MLB.com, was a dominant reliever at Louisville with a fastball that can reach triple digits and has touched 103 mph.
The 6-foot-4, 215-pound right-hander posted an 0.56 ERA with 57 strikeouts and nine walks allowed in 32 1/3 innings with 15 saves as a junior at Louisville this season en route to being named a Golden Spikes Award finalist. The 21-year-old was just as good as a sophomore with a 0.76 ERA and 62 strikeouts and 13 walks in 35 2/3 innings with 16 saves.
He's displayed the type of stuff the Twins envisioned he'd have when they took him in the 24th round of the 2011 Draft out of Downers Grove South High School (Illinois), and now they're happy they had the chance to select him yet again.
"He got a lot better," Twins scouting director Deron Johnson said. "He started throwing a lot harder. We pegged him as a reliever in high school and we saw potential in the fastball getting better and it has."
The Draft continues on Friday with Rounds 3-10. The MLB.com pregame show begins at 11:30 a.m. CT, with exclusive coverage of Rounds 3-10 beginning at noon CT.
Burdi is known for his overpowering fastball but also possesses a slider that can reach the low 90s. He throws a changeup but is expected to be a two-pitch reliever as a professional and profiles as a hard-throwing closer.
"The slider is already a plus pitch but the changeup is more of a show-me pitch," Burdi said. "It's something I'll have to work on."
Burdi said he first reached triple digits on his fastball while throwing in the Cape Cod League in between his freshman and sophomore season at Louisville. He threw 93 mph as a high school senior but gained velocity in college, and is perhaps the hardest-throwing pitcher in the Draft.
"There's very few of them," Johnson said. "Throwing the ball that hard is no easy task. The kid is blessed with a really good arm. And he has a really good slider that's up to 92."
Burdi was also one of college baseball's best closers over the last two years, breaking Louisville's record for career saves. He was named a Louisville Slugger All-American by Collegiate Baseball and was also a First-Team All-Conference selection this year.
"I'm known as kind of a shut-down guy and that's what I'm hoping the Twins use me as," Burdi said. "Whether it's the seventh, eighth or ninth inning, I want to be that guy and help out the team as quick as possible."
With his impressive fastball-slider combination, Burdi could rise through the system quickly with some Draft pundits saying he could be in the big leagues as early as next season. Johnson, though, cautioned that Burdi will need to improve his command at the Minor League level before he reaches the Majors.
"He's a mature kid, but professional baseball is totally different than pitching against Kentucky and Western Kentucky," Johnson said. "But this kid has a good arm and throws hard. He's got out pitches."
Burdi said his goal is to try to reach the big leagues as soon as possible to help out the Twins but said he knows he won't get there without hard work.
"I've always been a confident player," Burdi said. "I believe myself and believe I'm as good as anybody in this Draft. I'm just happy to be selected by the Twins. If they decide to put me in the Majors next year or this summer, it would be an honor. So for me, it's just about working hard to make this dream a reality."
Rhett Bollinger is a reporter for MLB.com. Read his blog, Bollinger Beat, and follow him on Twitter @RhettBollinger. This story was not subject to the approval of Major League Baseball or its clubs.