Twins use 12th-round pick on local product Kelly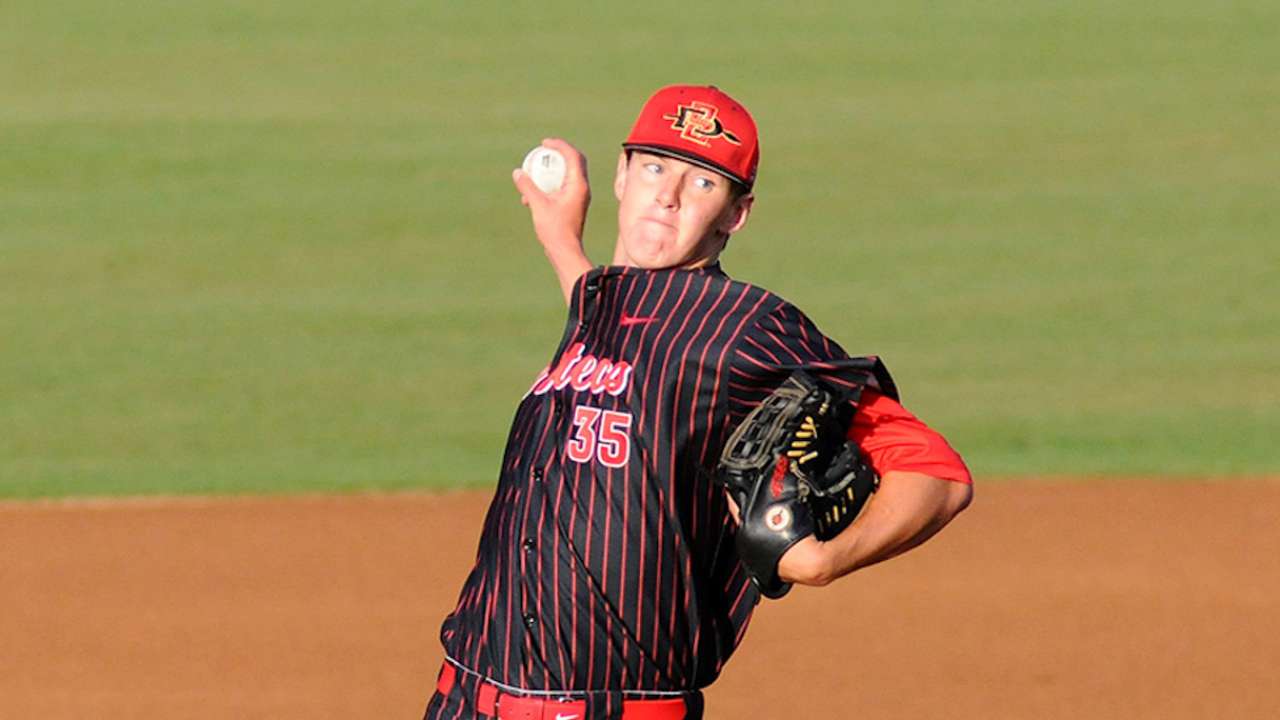 Pat Kelly may be returning to Minnesota.
The Twins made Kelly, a native of Red Wing, Minn., their 12th-round pick in the First-Year Player Draft on Saturday afternoon. The second baseman just finished his junior year at Nebraska, where he earned All-Big Ten honors for the second season in a row.
He learned of his Draft fate with his family -- they were sitting in their living room, eyes glued to the computer screen.
"It was kind of crazy, because we saw the Twins' pick come across," Kelly said. "We knew it was a possibility. As soon as they announced it, my phone was ringing."
The first call came from Twins scout Mark Wilson. Days of stressing over where the 21-year-old might land ended in an instant.
"It probably could've happened yesterday, but I wasn't sure," Kelly said. "I was hoping for the first few rounds today. We just kept hoping, and it happened."
Kelly is no stranger to Minnesota's Target Field.
After making his debut there in a 2011 high school showcase game, he returned to tear through the Big Ten Tournament in May 2013, batting .370 (10-for-27). That stretch included an elimination win over the University of Minnesota in which Kelly had a double, a home run and three RBIs.
"It was awesome playing at Target Field last year," Kelly said. "It was a great big field, great park. Unbelievable. I grew up watching Twins games, going to Twins games. It's pretty surreal."
Red Wing is roughly a one-hour drive from the stadium. In 2011, Kelly led Red Wing High to its first winning season in four years, batting .436 and hitting five home runs as a senior. He was named All-Metro by the Minneapolis Star-Tribune, and then went on to collect two first-team All-Big Ten awards at Nebraska.
Paul Hartmann is the current head coach at Red Wing High. He took over after Kelly left for Lincoln, but Hartmann has known the Kelly family for years.
"Teammates really saw Pat's work ethic and how seriously he took the game," Hartmann said. "A lot of younger players really modeled their work ethic after Pat.
"Whether he was a young player, a high school player, or a college player -- and now potentially a pro player -- nobody outworked Pat. And I don't think anybody will outwork him at the next level. All the accolades he's gotten, Pat has earned them."
With one year of eligibility left with the Huskers, there's a possibility that he could return to school for another year and finish his criminal-justice degree.
On the flip side of things, he was the only second baseman Minnesota took with its first 25 picks -- and one of just six infielders. The Twins currently have two Top 10 second-base prospects -- Eddie Rosario and Jorge Polanco -- in the organization, according to MLB.com's 2014 Prospect Watch.
Kelly said he will think over his options in the next few days.
"I'm still processing everything right now," he said.
Alex Smith is an associate reporter for MLB.com. This story was not subject to the approval of Major League Baseball or its clubs.