Morales singles, walks in Twins debut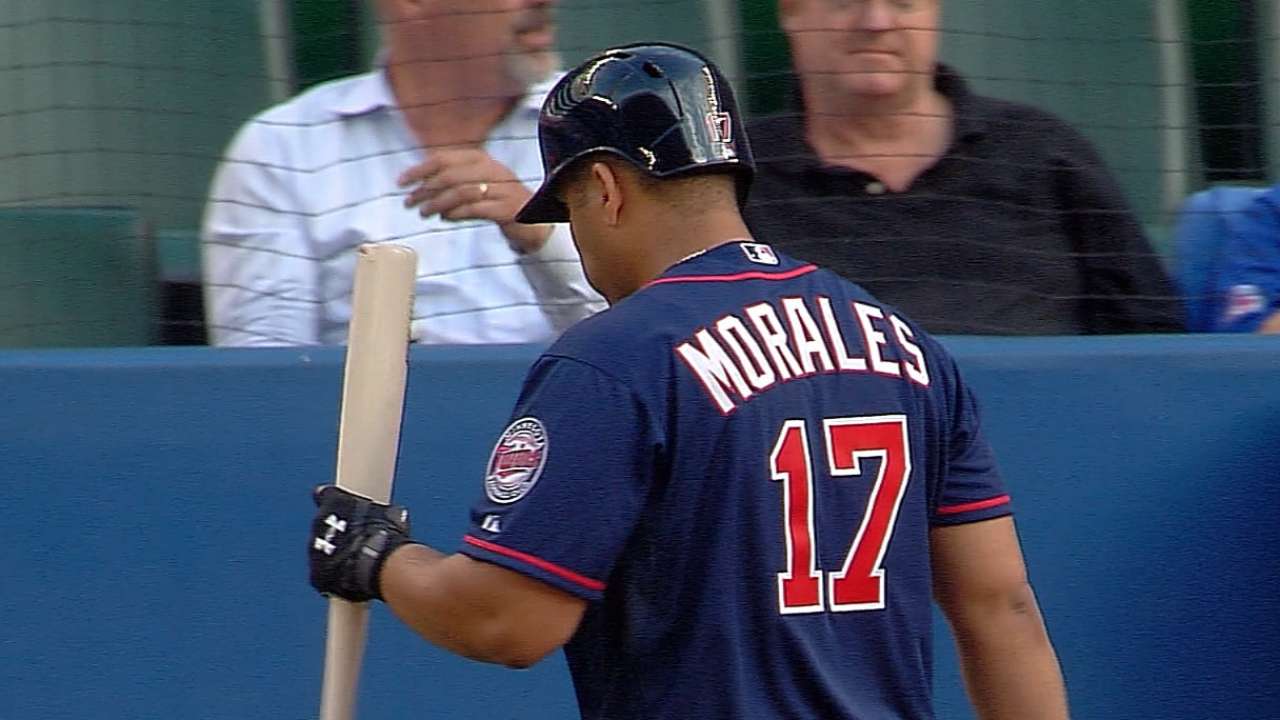 TORONTO -- In a surprise move, Kendrys Morales made his Twins debut on Monday, batting sixth and starting at designated hitter against the Blue Jays.
Morales, who officially joined the Twins on Sunday after signing a one-year, $12 million prorated contract, was expected to need roughly a week to get ready before playing in his first game.
Morales fared just fine in his first game back, as he went 1-for-3 with a walk. He singled with one out in the ninth to help spark a two-run rally for the Twins, who tied it up but ultimately lost in walk-off fashion in the bottom of the ninth.
Morales said his timing got better as the game went along, but admitted it was strange playing his first game against knuckleballer R.A. Dickey. He added that he wants to be back in the lineup on Tuesday, and wants to be an everyday player moving forward.
"For not seeing pitching for a long time it was tough facing a knuckleball," Morales said. "My first at-bat, I didn't feel good. The second at-bat was better, and the third at-bat was a little better. And then my fourth at-bat, single."
Morales hadn't played since last September, but called bullpen coach Bobby Cuellar on Sunday night and asked him to tell Twins manager Ron Gardenhire that he was ready to play on Monday.
"He said he's been sitting for four months and he thought about it and watched the game last night, so he wants to play," Gardenhire said. "I got no problem with that. I just told him he has to tell me how he's feeling out there."
Gardenhire said it'll be up to Morales to determine how much he'll play in his first week with the club, as he's still trying to knock off some rust. His first start came against Dickey, but Gardenhire said that didn't factor into the decision for Morales to start on Monday.
"I don't know if it's easier to come back and hit against a knuckleballer or against a guy throwing 95 [mph]," Gardenhire said. "I've never seen this before with a guy sitting out this long. But he's been swinging out there, so it's not like he's swinging cold turkey or coming out of a hospital bed."
Morales, who turns 31 on June 20, worked out six days a week at agent Scott Boras' training facility in Miami to stay sharp. He faced live pitching there, including facing free-agent right-hander Joel Pineiro, according to Twins assistant general manager Rob Antony. Antony was also on board with the decision to put Morales right into the lineup.
"To me, the only way to knock off the rust is to play," Antony said. "Maybe he struggles or doesn't give us much for a week, but then he takes off and does fine. You can wait a week and let him take BP, but there's nothing really to simulate a real game. So I think it's great he wants to play."
Rhett Bollinger is a reporter for MLB.com. Read his blog, Bollinger Beat, and follow him on Twitter @RhettBollinger. This story was not subject to the approval of Major League Baseball or its clubs.