Dozier comes off bench, hits homer in ninth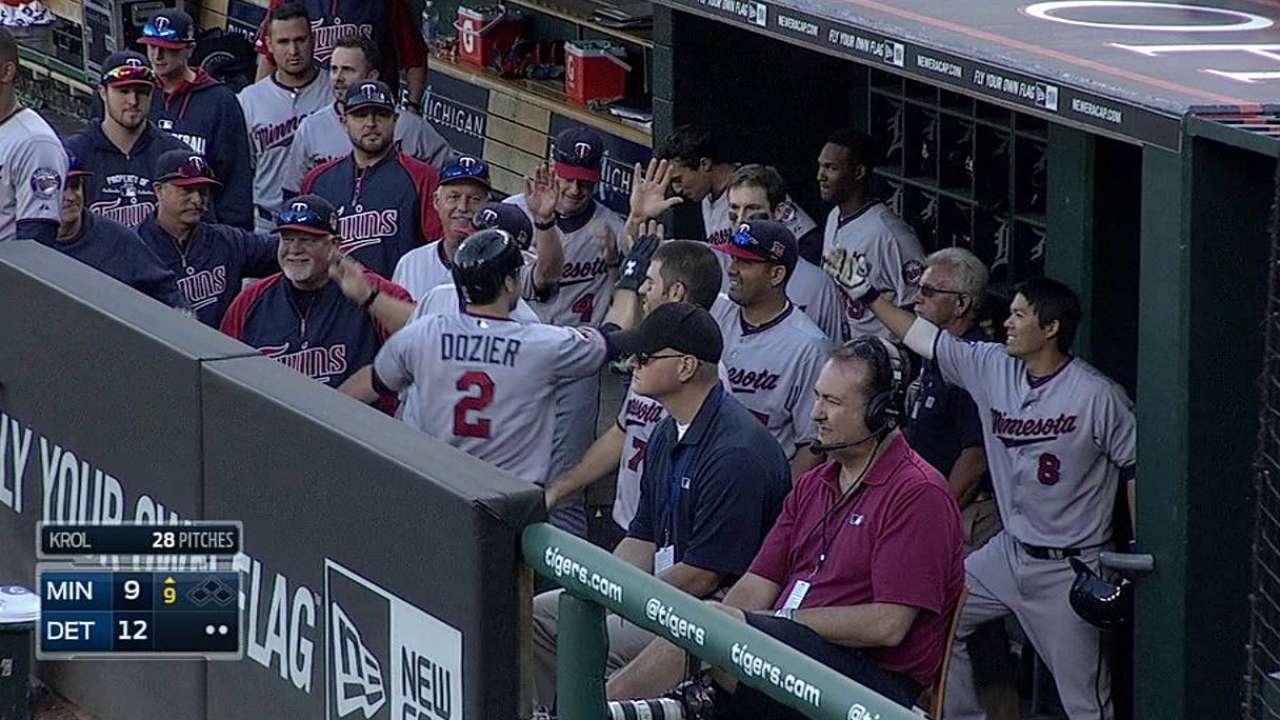 DETROIT -- Twins manager Ron Gardenhire said before Saturday's 12-9 loss to the Tigers that he'd prefer to avoid using Brian Dozier as he continues to recover from a tight lower back he aggravated during the series in Toronto.
With injuries to two third basemen on Saturday, the luxury of resting Dozier another full day wasn't afforded to Gardenhire. And while the injury might have prevented Dozier from being successful on the basepaths, he didn't have to find out. In his lone at-bat after entering during the eighth inning, Dozier homered to left field in the ninth.
The two-run blast cut Detroit's lead, once 11-1, to just three runs, but Eric Fryer struck out to end the game in the next at-bat.
"He made that look easy," Gardenhire said. "But I'm still worried about him.
"He took a swing, but he still was stiff toward the end of the game. He still hasn't had to dive. He hasn't had to run or slide."
Starting third baseman Trevor Plouffe exited the game in the fourth with what the team called a strained left oblique after he attempted a diving stop. His replacement, Eduardo Nunez, pulled his right hamstring legging out an infield single in the eighth inning, prompting Dozier's emergency appearance.
Gardenhire said the decision came down to Dozier or Kurt Suzuki, the team's usual starting catcher, but he opted for Dozier.
Matt Slovin is an associate reporter for MLB.com. This story was not subject to the approval of Major League Baseball or its clubs.