Santana exits game with knee soreness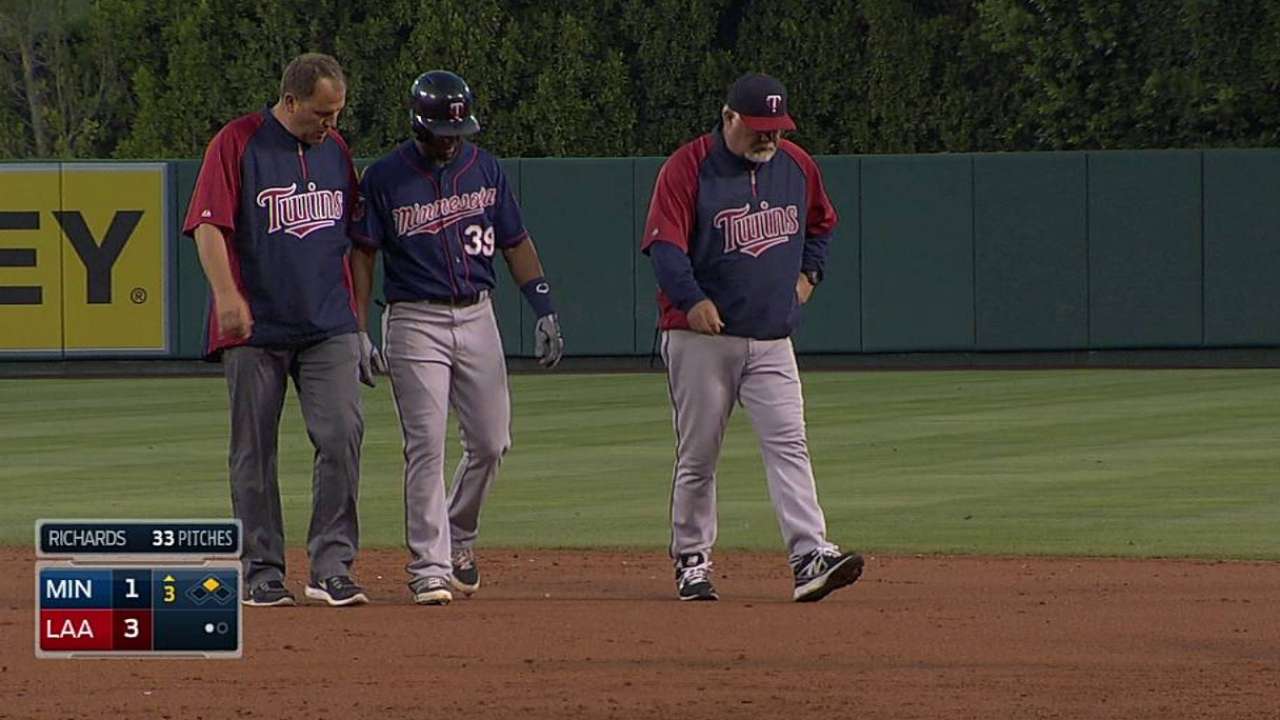 ANAHEIM -- Rookie shortstop Danny Santana left Wednesday's game against the Angels in the third inning with left knee soreness after doubling to center field. He's day to day.
Santana doubled on a 1-2 fastball from right-hander Garrett Richards but said he twisted his left knee while running from first to second. He was visited at second base by manager Ron Gardenhire and head trainer Dave Pruemer and had to be taken out of the game.
The initial tests were encouraging for Santana, who will be evaluated further Thursday morning. He's scheduled to have an MRI exam before Thursday's game as a precautionary measure.
"I just twisted it a little bit after I touched first base," Santana said. "I feel better."
Pedro Florimon replaced Santana and was stranded at second base that inning with Brian Dozier flying out to left and Josh Willingham popping out to second to end the inning. Florimon remained in the game at shortstop to take over for Santana, and went 0-for-3 at the plate.
Santana, 23, has been a spark plug for the Twins this year, hitting .328 with two homers, 10 doubles and six stolen bases in 37 games.
"He's kind of our catalyst," Twins manager Ron Gardenhire said. "I think we all saw it when he was running to second that he felt something in his knee. He tried to stretch it and run again so they took him out of there and checked his knee out thoroughly. So we'll see how he is the morning. That's all we can do. Right now everything checked out fine as far as the test goes with the ligaments and all that."
Rhett Bollinger is a reporter for MLB.com. Read his blog, Bollinger Beat, and follow him on Twitter @RhettBollinger. This story was not subject to the approval of Major League Baseball or its clubs.