Pipeline preview: Owens set to take on Trenton
Boston's top prospect slated to start for Double-A Portland on Tuesday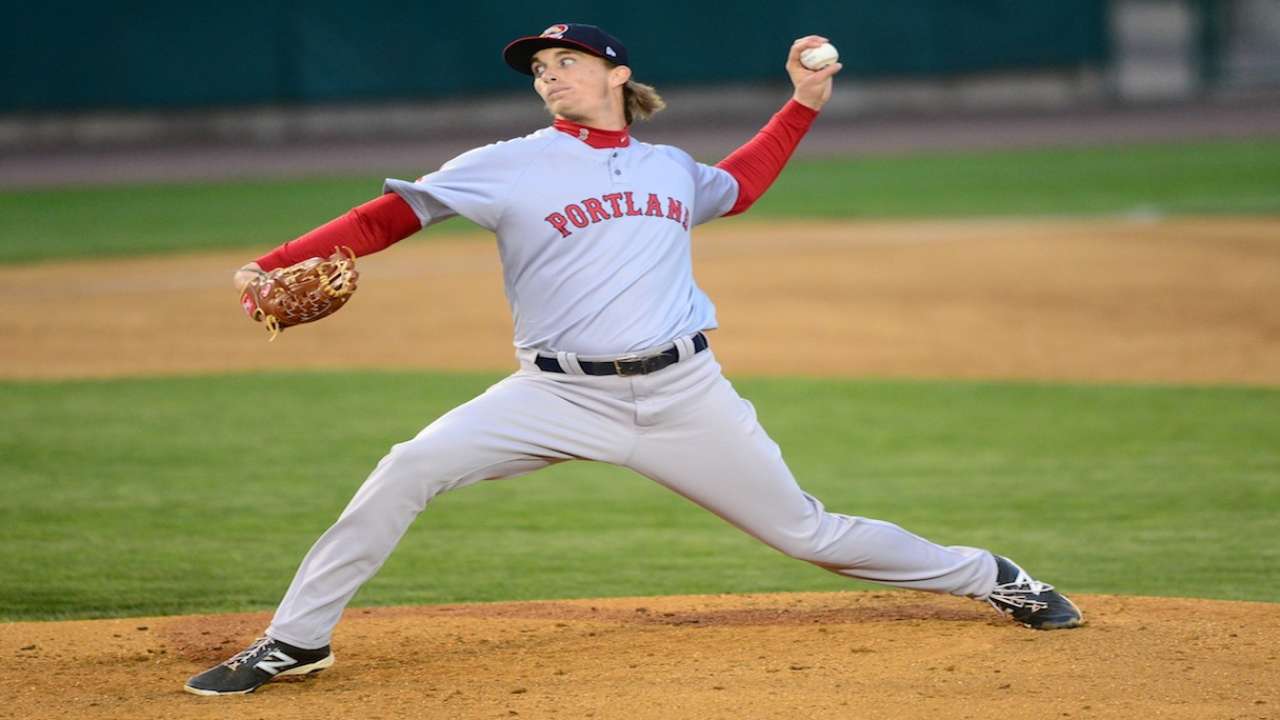 The Yankees-Red Sox rivalry concluded its latest iteration Sunday night in the Bronx with Boston's No. 5 prospect, Mookie Betts, making his Major League debut. Down in the Minor Leagues, however, the rivalry continues this week with Betts' former teammates in Double-A Portland visiting Trenton, the Yankees' affiliate.
The series began Monday, as Trenton defeated Portland, 2-0. Tuesday, it will continue with a showdown of the teams' top prospects. Left-hander Henry Owens, the Red Sox's No. 1 prospect, is scheduled to start for Portland and will have to contend with a Trenton lineup that is anchored by catcher Gary Sanchez, the Yankees' No. 1 prospect. The game, which can be seen on MiLB.TV, begins at 7:05 p.m. ET.
Owens, ranked No. 26 on MLBPipeline.com's Top 100 Prospects list, enters Tuesday on a six-game winning streak. Four of Owens' starts during the streak, which dates back to May 24, have been scoreless outings, and he has a 1.08 ERA in 41 2/3 innings.
Overall this season, Owens is 10-3 with a 2.25 ERA. He has struck out 95 batters and walked 37 in 92 innings. Owens leads the Eastern League in ERA, wins, strikeouts and WHIP (1.04).
Sanchez, No. 39 on the Top 100, went 0-for-4 in Monday's game and is hitless in his last 11 at-bats. Despite the recent skid, he has been solid at the plate this season. Sanchez is hitting .269/.332/.427 with nine home runs in 66 games.
Owens has faced Trenton twice this season. The Sea Dogs and the Thunder split the two meetings, both of which were in April. Owens also twice faced Sanchez when they were in the South Atlantic League in 2012. In all, Sanchez is 4-for-10 with two home runs and a double in four games against the left-hander.
While Owens and Sanchez are the headliners, both teams have several other well-regarded prospects. Portland features catcher Blake Swihart and shortstop Deven Marrero, the Red Sox's Nos. 3 and 13 prospects, respectively, while Trenton's roster also includes outfielders Mason Williams, Tyler Austin and Peter O'Brien, the Yankees' Nos. 2, 5 and 20 prospects.
In addition to Owens, several pitchers ranked among the Top 100 are scheduled to start Tuesday, including Archie Bradley (No. 4), Noah Syndergaard (No. 10), Lucas Sims (No. 49) and Trey Ball (No. 79). Fans can watch Bradley, Syndergaard and Ball on MiLB.TV, beginning with Ball and Class A Greenville taking on Asheville at 7:05 p.m. ET.
Sims, the Braves' No. 1 prospect, will be making his first start since he threw seven hitless innings against Class A Advanced Wilmington on Thursday. His outing began back-to-back combined no-hitters for Lynchburg. Tuesday, he will look to recreate some of the magic when he faces Carolina at 7 p.m. ET.
Top prospect probables
Trey Ball (Red Sox's No. 7), Greenville vs. Asheville
Chris Beck (White Sox No. 8), Birmingham at Chattanooga
Tim Berry (Orioles' No. 6), Bowie vs. Altoona
Zachary Bird (Dodgers' No. 13), Great Lakes vs. South Bend
Corey Black (Cubs' No. 15), Tennessee vs. Montgomery
Paul Blackburn (Cubs' No. 13), Kane County vs. Peoria
Archie Bradley (D-backs' No. 1), Mobile at Jackson
Sean Brady (Indians' No. 17), Mahoning Valley at Auburn
Ian Clarkin (Yankees' No. 7), Charleston at Savannah
Chase De Jong (Blue Jays' No. 13), Lansing at West Michigan
Zach Efflin (Padres' No. 11), Lake Elsinore vs. Inland Empire
Michael Feliz (Astros' No. 9), Quad Cities at Beloit
Drew Gagnon (Brewers' No. 16), Huntsville at Mississippi
Stephen Gonsalves (Twins' No. 16), Elizabethton at Johnson City
Kyle Hendricks (Cubs' No. 14), Iowa vs. Omaha
Luis Heredia (Pirates' No. 10), West Virginia vs. Hickory
Lars Huijer (Mariners' No. 20), Clinton at Burlington
Mike Kickham (Giants' No. 17), Fresno at Sacramento
Michael Lorenzen (Reds' No. 4), Pensacola vs. Jacksonville
Cory Mazzoni (Mets' No. 11), St. Lucie at Charlotte
Henry Owens (Red Sox's No. 1), Portland at Trenton
Ariel Pena (Brewers' No. 17), Nashville vs. Memphis
Zach Petrick (Cardinals' No. 16), Memphis at Nashville
Chris Reed (Dodgers' No. 6), Chattanooga vs. Birmingham
Jefry Rodriguez (Nationals' No. 9), Auburn vs. Mahoning Valley
Joely Rodriguez (Pirates' No. 18), Altoona at Bowie
Victor Sanchez (Mariners' No. 6), Jackson vs. Mobile
Lucas Sims (Braves' No. 1), Lynchburg at Carolina
Noah Syndergaard (Mets' No. 1), Las Vegas vs. Salt Lake
Drew VerHagen (Tigers' No. 12), Toledo at Indianapolis
Kevin Zimoek (Tigers' No. 13), West Michigan vs. Lansing
Teddy Cahill is a reporter for MLB.com. Follow him on Twitter at @tedcahill. This story was not subject to the approval of Major League Baseball or its clubs.