International signing period begins, stars abound
Today is first day foreign-born prospects can sign with big league clubs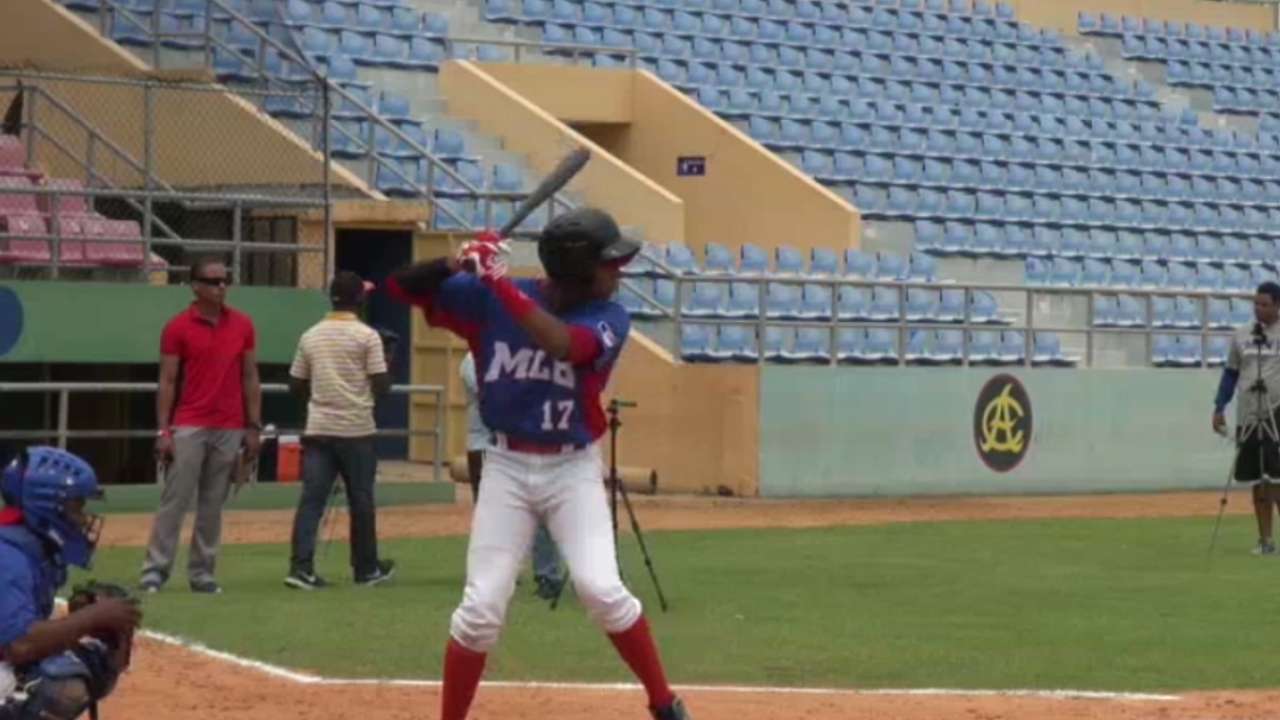 Today is July 2, and the market has officially opened.
Today marks the start of the 2014-15 international signing period, a day when some of the best teenage prospects in the world will sign with teams and take a huge step toward fulfilling their Major League dreams.
"I'm very excited about this year's signing class and the opening of the period," said Joel Araujo, manager of Latin American game development for MLB. "All of these players have been dreaming of July 2 since they were children, and for many, it will mark the first step on their road to becoming big leaguers. It's pretty tough not to get excited about that."
This is how it works:
A 16-year-old international player is eligible to sign with a Major League team between July 2 through June 15 of next year if the prospect turns 17 before Sept. 1 of this year or by the completion of his first Minor League season. Additionally, any prospect who is already 17 or older and has not previously signed a Major or Minor League contract, resides outside the United States, Canada and Puerto Rico and has not been enrolled in a high school or college in the U.S., Canada or Puerto Rico within the previous year is eligible to sign during the period.
bonus signing pools
| Team | Pool |
| --- | --- |
| Astros | $5,015,400 |
| Marlins | $4,622,400 |
| White Sox | $4,273,200 |
| Cubs | $3,962,700 |
| Twins | $3,686,600 |
| Mariners | $3,440,700 |
| Phillies | $3,221,800 |
| Rockies | $3,026,700 |
| Blue Jays | $2,852,900 |
| Mets | $2,697,800 |
| Brewers | $2,611,800 |
| Padres | $2,531,200 |
| Giants | $2,455,300 |
| Angels | $2,383,700 |
| D-backs | $2,316,600 |
| Orioles | $2,253,100 |
| Yankees | $2,193,100 |
| Royals | $2,136,800 |
| Nationals | $2,083,600 |
| Reds | $2,033,400 |
| Rangers | $2,015,500 |
| Rays | $1,998,100 |
| Indians | $1,980,700 |
| Dodgers | $1,963,800 |
| Tigers | $1,946,900 |
| Pirates | $1,930,400 |
| Athletics | $1,913,900 |
| Braves | $1,897,900 |
| Red Sox | $1,881,700 |
| Cardinals | $1,866,300 |
"July 2 is our Draft, and every team and scout spends the whole year getting ready to sign what they think is the best international player," said Fred Guerrero, international director for the Twins. "Some of these kids are going to play in the big leagues in between four and six years."
There are specific signing guidelines each team must follow.
In 2012, in accordance with the Collective Bargaining Agreement, spending limits were introduced and each club was allotted $2.9 million to spend on the international market during the signing period that began that July 2.
For the second consecutive year, those numbers have changed. Each team is allotted a $700,000 base and a bonus pool based on the team's record in 2013, a figure ranging from $5,015,400 for the Astros, who had the Majors' lowest winning percentage last year, to $1,866,300 for the Cardinals, who had the highest winning percentage.
The signing bonus pools are made up of four slot values.
Additionally, for the second consecutive year, clubs are allowed to trade pool money. The exemption that allowed clubs to sign up to six players for bonuses up to $50,000 without counting against the allotment has been eliminated this year, but all bonuses of $10,000 or less are also exempt.
"These players are the future stars of Major League Baseball," said Ulises Cabrera, a former Minor League player who co-founded the Dominican Prospect League. "You think about the Elvis Andruses, the Jurickson Profars and Gregory Polancos of the world and all those guys were July 2 players. Outside of free agency or the Draft, this is the only other area where teams can infuse core talent to their system. This is an extremely important time for baseball."
There are penalties in place for teams exceeding their spending limits.
Teams that exceed the pools by 0 to 5 percent have to pay 100 percent tax, and teams that exceed the pools by 5 to 10 percent are not allowed to sign a player for more than $500,000 during the next signing period and also have to pay a 100-percent tax on the pool overage. Teams that exceed the pools by 10 to 15 percent are not allowed to sign a player for more than $300,000 during the next signing period and have to pay a 100-percent tax on the pool overage.
In the most severe penalty, teams that exceed the pool by 15 percent or more are not allowed to sign a player for more than $300,000 during the next two signing periods, in addition to paying a 100-percent tax on the pool overage.
The international signing guidelines do not apply to players who previously signed a contract with a Major or Minor League club, nor do they apply to players who are least 23 years old and have played as a professional in a league recognized by the Commissioner's Office for a minimum of five seasons. Cuban players who are at least 23 and have played in a Cuban professional league for five or more seasons are also exempt.
"In the Dominican Republic and in Latin America, baseball is one of the ways out of poverty, and the July 2 period gives the opportunity for a player to get a better life and his entire family to get one, too," said Amaurys Nina, president of the International Prospect League. "To me, it's a bigger than the Draft in the United States, because not only do teams get a chance to get the next Sammy Sosa or Miguel Cabrera and build on the great job Latinos are doing in MLB, it also gives a kid a chance to be somebody and to make a life for himself. He gets out of poverty, and hundreds of families will get a chance to live better and not worry about their next meal. This happens every July 2."
TOp international prospects
| No. | Player | Pos. | Home | Favorite* |
| --- | --- | --- | --- | --- |
| 1 | Dermis Garcia | SS | DR | Yankees |
| 2 | Nelson Gomez | 3B | DR | Yankees |
| 3 | Adrian Rondon | SS | DR | Rays |
| 4 | Gilbert Lara | SS | DR | Brewers |
| 5 | Juan DeLeon | OF | DR | Yankees |
| 6 | Christopher Acosta | RHP | DR | Red Sox |
| 7 | Jonathan Amundaray | OF | VEN | Yankees |
| 8 | Brayan Hernandez | OF | VEN | Mariners |
| 9 | Antonio Arias | OF | VEN | Yankees |
| 10 | Anderson Espinoza | RHP | VEN | Red Sox |
Shortstop Dermis Garcia from the Dominican Republic tops MLB.com's Top 30 Prospects this year. Overall, there are 14 players from the Dominican Republic, 13 from Venezuela, two from Colombia and one from Korea on this year's list. The position breakdown is seven outfielders, 15 infielders (which includes 13 shortstops), five pitchers and three catchers.
It can be hard to predict how a teenager will develop but there is a history of success.
In all, six of last year's Top 30 are playing in the Arizona Rookie League, two are in the Gulf Coast League and 18 are playing the Dominican or Venezuelan Summer League. Three players from last year's Top 30 currently play at Class A.
"There is something uniquely compelling about being able to track the development and growth of some of these players as they work their way up in the system," Araujo said. "For fans, it's an opportunity to form an attachment to these players, and when they reach the Majors, you feel like you've been along for the journey."
Jesse Sanchez is a national reporter for MLB.com. Follow him on Twitter @JesseSanchezMLB. This story was not subject to the approval of Major League Baseball or its clubs.