Pipeline preview: Meyer, Webster set for rematch
Triple-A right-handers to square off for second time when Pawtucket hosts Rochester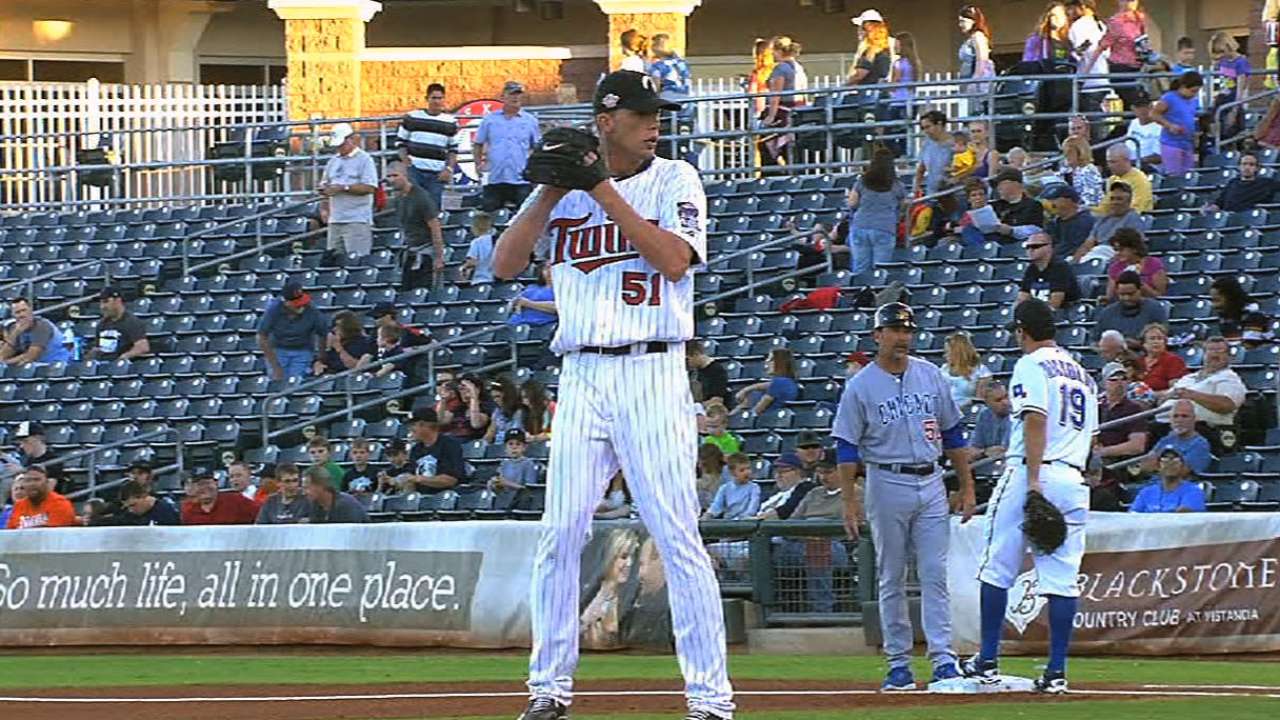 Right-handers Alex Meyer and Allen Webster, ranked Nos. 24 and 38 on MLBPipeline.com's Top 100 Prospects list, met for the first time in their careers on April 23 in a game that lived up to its billing as a pitchers' duel. Though Meyer outpitched Webster that night, the Red Sox's No. 2 prospect got the last laugh, as Triple-A Pawtucket came back for a 3-1 victory.
Meyer and Webster will meet again when Pawtucket hosts Rochester on Thursday night. The game, which begins at 6:15 ET, can be seen on MiLB.TV.
Meyer, the Twins' No. 3 prospect, may have made his best start of the season when the teams met in April. In 6 2/3 scoreless innings, he matched his career high with 11 strikeouts and held Pawtucket to three hits and three walks. It was Meyer's longest start of the year and began a 15-inning shutout streak.
Webster wasn't quite as good as Meyer that night, but he also made a solid start. He held Rochester to one run on five hits and one walk in 6 1/3 innings. Webster struck out five batters.
Since the April showdown, both Meyer and Webster have continued their solid seasons. Meyer entered Thursday 4-4 with a 3.61 ERA in 77 1/3 innings. He was second in the International League with 86 strikeouts, one shy of Rays' No. 7 prospect Nate Karns. Webster has gone 4-4 with a 2.92 ERA in 17 starts. He's struck out 81 batters and walked 35 in 98 2/3 innings.
In addition to Meyer and Webster, a few other pitchers ranked on the Top 100 are scheduled to start Thursday, including A.J. Cole (No. 56) and Braden Shipley (No. 60). Fans can watch on MiLB.TV as Cole makes his second start since being promoted to Triple-A Syracuse when he takes the mound against Phillies' No. 1 prospect Maikel Franco and Lehigh Valley at 7:05 p.m ET.
Top prospect probables
Chris Anderson (Dodgers' No. 5), Rancho Cucamonga vs. High Desert
Cole (Nationals' No. 2), Syracuse at Lehigh Valley
Adam Conley (Marlins' No. 4), New Orleans vs. Round Rock
Jonathon Crawford (Tigers' No. 4), West Michigan vs. Lansing
Ryan Eades (Twins' No. 19), Cedar Rapids at Wisconsin
Joan Gregorio (Giants' No. 12), Augusta at Rome
Josh Hader (Astros' No. 14), Lancaster at Stockton
Jake Johansen (Nationals' No. 12), Hagerstown at Lakewood
Taylor Jungmann (Brewers' No. 8), Nashville vs. Memphis
Ben Lively (Reds' No. 12), Pensacola vs. Jacksonville
Adalberto Mejia (Giants' No. 3), Richmond at Harrisburg
Meyer (Twins' No. 3), Rochester at Pawtucket
Mark Sappington (Angels' No. 3), Inland Empire at Lake Elsinore
Luis Severino (Yankees' No. 9), Tampa vs. Lakeland
Shipley (D-backs' No. 2), Visalia vs. Bakersfield
Scott Snodgrass (White Sox No. 19), Birmingham at Chattanooga
Seth Streich (A's No. 18), Stockton vs. Lancaster
Jose Urena (Marlins' No. 7), Jacksonville at Pensacola
Logan Verrett (Mets' No. 18), Las Vegas vs. Salt Lake
Webster (Red Sox's No. 2), Pawtucket vs. Rochester
Devin Williams' (Brewers' No. 3), Helena at Great Falls
Trevor Williams (Marlins' No. 9), Jupiter vs. Palm Beach
Tyler Wilson (Orioles' No. 19), Norfolk vs. Charlotte
Teddy Cahill is a reporter for MLB.com. Follow him on Twitter at @tedcahill. This story was not subject to the approval of Major League Baseball or its clubs.