Gardy touts four to represent Twins in All-Star Game
Skipper says Dozier, Hughes, Perkins, Suzuki all worthy candidates for AL squad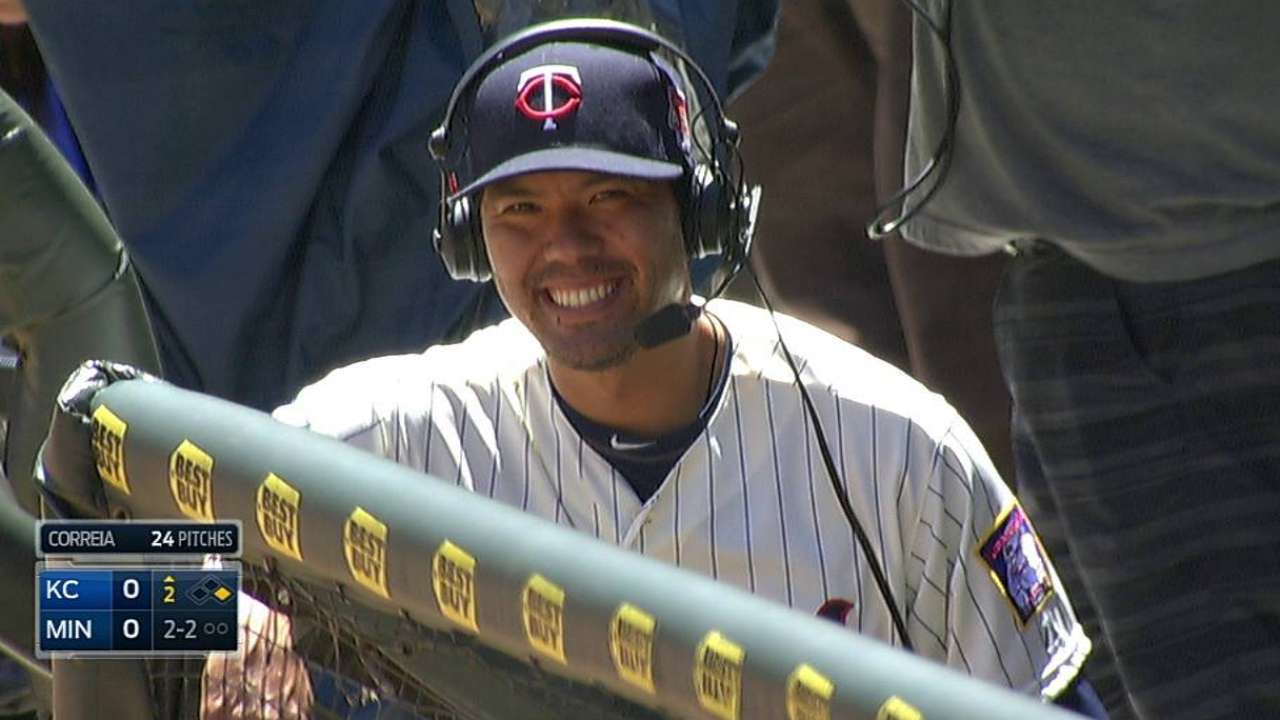 MINNEAPOLIS -- Twins manager Ron Gardenhire said he believes catcher Kurt Suzuki, second baseman Brian Dozier, right-hander Phil Hughes and closer Glen Perkins are all worthy of consideration to represent the American League in the All-Star Game at Target Field on July 15.
The Twins are not expected to have a starting position player in the Midsummer Classic, as Suzuki ranked fourth among AL catchers in the latest ballot update released on Monday, while Dozier ranked fifth among AL second basemen.
But Gardenhire said he thinks Suzuki and Dozier are both deserving to be added to the roster if they're not elected to start the game, despite stiff competition at both positions.
"I'm sure [Suzuki's] name is going to be mentioned," Gardenhire said. "It just comes down to needs and how many catchers they want to carry. Dozier has had a great first half, but second base is tough."
Perkins was an All-Star in 2013 and his 20 saves this season rank as the third-highest total in the AL. He also has a 3.41 ERA to go along with 46 strikeouts and seven walks in 34 1/3 innings, entering Thursday.
"I think Perkins has had a heck of a first half," Gardenhire said. "But there are some big number pitchers and bullpen guys."
Hughes also has tough competition among AL starting pitchers and is also slated to start the Sunday before the All-Star Game, which oftentimes comes into play when the pitchers are selected. But Gardenhire said he's fine if Hughes wants to still pitch in the Midsummer Classic if he's selected.
"I think Hughesy starts that Sunday, which doesn't always help," Gardenhire said. "But it's all up to the individual. You never want to stop a guy from pitching in the All-Star Game if he wants to pitch. I would never do that. I'd be very happy for him."
Fans can cast their votes for starters at MLB.com -- online or on a mobile device -- using the 2014 All-Star Game MLB.com Ballot Sponsored by Experian until tonight at 10:59 p.m. CT. The 2014 All-Star Game will be played at Target Field on Tuesday, July 15 on FOX.
Rhett Bollinger is a reporter for MLB.com. Read his blog, Bollinger Beat, and follow him on Twitter @RhettBollinger. This story was not subject to the approval of Major League Baseball or its clubs.