Nolasco dealing with sore elbow, to undergo tests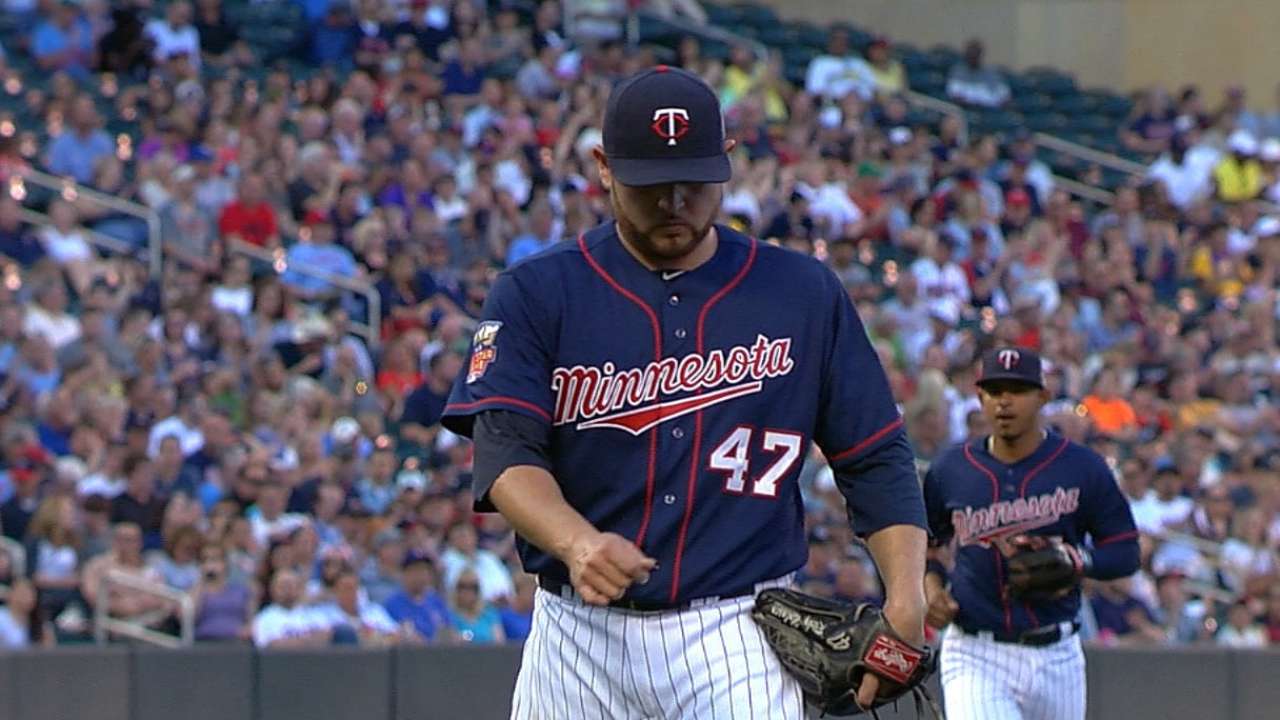 SEATTLE -- Right-hander Ricky Nolasco met with Twins manager Ron Gardenhire and pitching coach Rick Anderson on Monday, and admitted he has been pitching through elbow discomfort this season.
Nolasco is scheduled to fly back to Minnesota on Monday night as a result, and will be examined by team physician Dr. John Steubs on Tuesday. It was the first time Nolasco had told anyone in the organization that he's had elbow issues this year.
"After some coaxing, he finally admitted he's been struggling since Spring Training with a bit of a sore elbow," Twins assistant general manager Rob Antony said. "He said he can't get loose more than anything. Said it gets tight. Some days it's better than others. But [Sunday], he had a real difficult time getting loose, so we called it a day after two innings. And we talked to him [Monday] and he admitted something was going on, so we'll get him checked out."
Nolasco struggled Sunday, giving up six runs on seven hits over a season-low two innings in a loss to the Yankees to see his ERA rise to 5.90 on the year. The Twins have been worried about his velocity, as it has ticked downward every month, according to data at BrooksBaseball.net.
Nolasco's four-seam fastball averaged 92.39 mph in March, 91.79 mph in April, 91.60 mph in May, 90.97 mph in June and 90.55 mph in July. His four-seam velocity was a season-worst 89.96 mph in his start on Sunday.
"His velocity has been down," Antony said. "He hasn't been as effective with his pitches. He hasn't had the command as he's had. Physically, everything he's done isn't what the reports we had on him from last year."
Nolasco's troubles have come in the first season of a four-year, $49 million deal signed in the offseason. He had a career 4.37 ERA entering this year, including a 3.70 ERA last year with the Marlins and Dodgers.
"We know what we brought here -- we brought over a very good pitcher with a great track record," Gardenhire said. "He finally admitted it. I like the old school. I like a guy who wants to pitch through some pain. But obviously the results aren't what we want and yesterday he didn't have much, at all."
Rhett Bollinger is a reporter for MLB.com. Read his blog, Bollinger Beat, and follow him on Twitter @RhettBollinger. This story was not subject to the approval of Major League Baseball or its clubs.