MLB.com Columnist
Jim Callis
Pipeline Perspectives: Plawecki, Severino on the rise
Prospects heading to Sunday's Futures Game, and in near future, New York City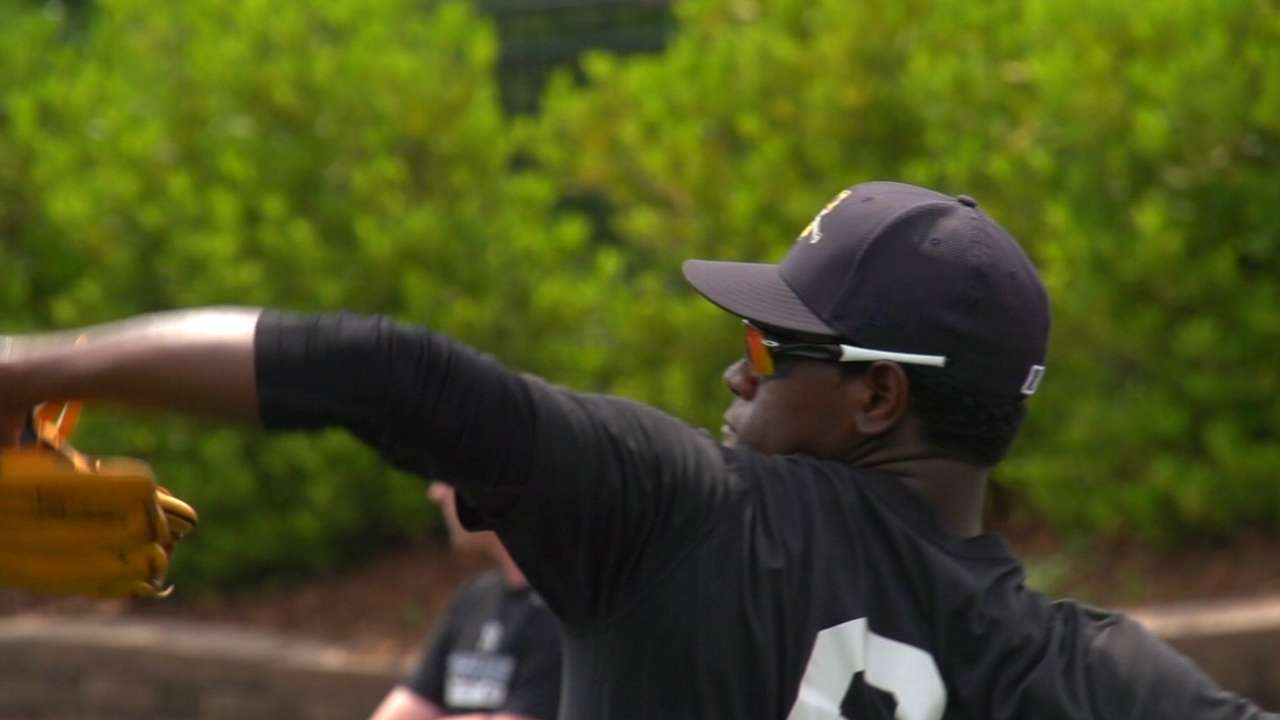 There's a good amount of subjectivity regarding baseball prospects. With the evaluation of talent being in the eye of the beholder, finding consensus is often difficult. Even Jim Callis and Jonathan Mayo of MLBPipeline.com don't always see eye to eye. They discuss their viewpoints regularly in a feature called Pipeline Perspectives. Submit a topic for them to debate.
Part of the joy of the annual Futures Game is getting to see many of baseball's best prospects share a field for nine innings.
The two best power hitters in the Minors, third basemen Kris Bryant (Cubs) and Joey Gallo (Rangers), will be on center stage at Target Field on Sunday. So will quality defenders such as catcher Jorge Alfaro (Rangers) and shortstop Francisco Lindor (Indians), as well as elite pitching prospects like Lucas Giolito (Nationals) and Julio Urias (Dodgers). All of them have received plenty of hype, and deservedly so.
Another main attraction at the Futures Game is watching the spotlight shine on top prospects who haven't received as much attention as they deserve. For this Pipeline Perspective, Jonathan Mayo and I were tasked with identifying two such players, one each from the U.S. and the World teams. Jonathan went with right-hander Domingo German (Marlins) and outfielder Michael Taylor (Nationals), while I believe the two most underhyped players in this year's event play for organizations based in the media capital of the world.
Catcher Kevin Plawecki (Mets) and right-hander Luis Severino (Yankees) didn't crack MLBPipeline.com's preseason Top 100 Prospects list. They'll both figure prominently when we release an updated version later this month.
Coming into the season, the Mets had little doubts about their catcher of the future. Travis d'Arnaud, who had been a key piece in trades that sent Roy Halladay to the Phillies and R.A. Dickey to the Blue Jays, ranked as the top backstop prospect in baseball. Yet d'Arnaud has struggled to stay above the Mendoza Line since arriving in the big leagues last August, and his defense hasn't been overly impressive either.
Plawecki has emerged as a viable alternative to d'Arnaud, and he's not far off from New York either. He reached Triple-A two years after signing for $1.4 million out of Purdue as the 35th overall pick in the 2012 First-Year Player Draft. He's off to a slow start in his first two weeks at Las Vegas, one of the friendliest hitting environments in the Minors, but that small sample size can't detract from his overall numbers as a pro: .293/.373/.437 with nearly as many walks (87) and extra-base hits (88) as strikeouts (108) in 255 games.
The 23-year-old Plawecki doesn't have any flashy tools, but he's a proficient player who rarely makes a mistake. He's a right-handed hitter who controls the strike zone well and makes consistent contact with ease, so he should produce for a solid average. He has the strength to hit the ball out of the park when he turns on pitches, so he should reach double figures in home runs on an annual basis.
Plawecki's arm isn't particularly strong, but it plays up because he has a quick release. He's a sound receiver with strong leadership skills. While he's unlikely to ever win a Gold Glove, there's no reason he'll have to move from behind the plate.
d'Arnaud has a higher ceiling, but Plawecki may have a safer floor and does have a cleaner medical history. He's also two years younger and has raced through the Minors more quickly than d'Arnaud did.
While Plawecki was a supplemental first-round pick with a seven-figure bonus, Severino entered pro ball with much less fanfare. He didn't sign out of the Dominican Republic until he was nearly 18 in December 2011, a year after he first became eligible, and received a $225,000 bonus.
Severino had a strong pro debut in 2012 with the Rookie-level Dominican Summer League Yankees, though he was overshadowed by fellow righty Rafael dePaula on that roster. Last year, Severino went from making his U.S. debut in June to jumping two levels to low Class A Charleston in July to ranking as New York's top right-handed pitching prospect at season's end. Midway through 2014, he's now the system's top prospect, period.
Still just 20, Severino returned to Charleston in April but pushed his way to high Class A Tampa in late June. He has dominated at both stops, going a combined 4-3, 2.45 in 18 starts. He has a 98/21 strikeout/walk ratio in 88 1/3 innings, and opponents have batted just .222 with two homers against him.
Though he's not especially physical at 6 feet and 195 pounds, Severino has a loose, quick arm. He's able to maintain a mid-90s fastball through his starts and has been clocked up to 98 mph. When he doesn't try to overthrow his heater, it features some nice sink, a major reason he has surrendered just five homers in 196 2/3 pro innings.
Severino's slider and his changeup are more works in progress compared to his fastball, though both have the chance to become solid Major League pitches. He's wiry strong and throws lots of strikes, so there's no reason he can't remain a starter despite being a 6-foot right-hander.
Many fans will get their first glimpses of Plawecki and Severino during the Futures Game. They'll see a lot more of them in the near future, as Plawecki is on pace to reach Citi Field in 2015 and Severino could make it to Yankee Stadium by early 2016.
Jim Callis is a reporter for MLB.com and writes a blog, Callis' Corner. Follow @jimcallisMLB on Twitter. This story was not subject to the approval of Major League Baseball or its clubs.