Pipeline preview: Durham, Buffalo set to square off
Loaded Triple-A affiliates of Tampa Bay, Toronto open four-game set on Thursday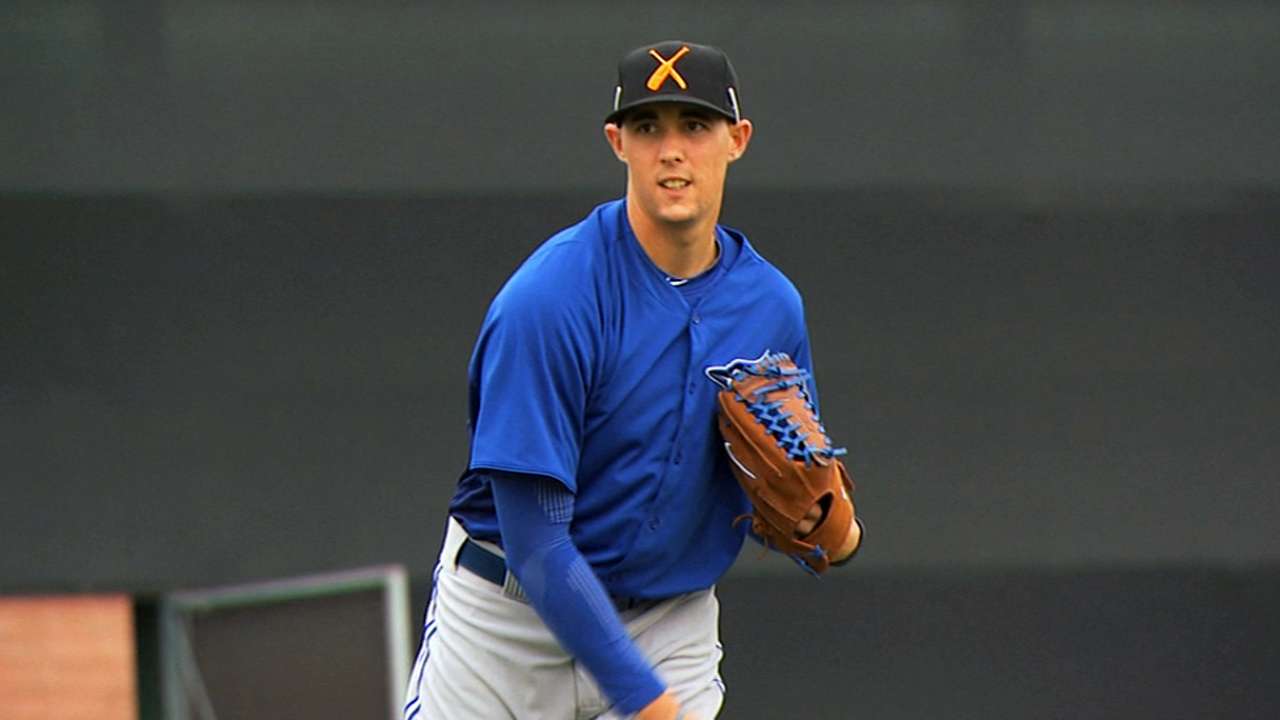 As preparations for next Wednesday's Triple-A All-Star Game at Durham Bulls Athletic Park continue, the Bulls' 10-day road trip rolls into Buffalo on Thursday for the start of a four-game series.
Buffalo and Durham have a combined seven players on the International League All-Star team that will take on the Pacific Coast League All-Stars on Wednesday night. And that group doesn't include Bisons right-hander Aaron Sanchez, the Blue Jays' No. 1 prospect, or Bulls shortstop Hak-Ju Lee, the Rays' No. 1 prospect.
In the series opener Thursday, Sanchez will face left-hander Mike Montgomery, who earned a spot on the All-Star team. The game, which can be seen on MiLB.TV, begins at 7:05 p.m. ET.
Sanchez, ranked No. 19 on MLBPipeline.com's Top 100 Prospects list, began the season with Double-A New Hampshire and was promoted to Buffalo in June. Sanchez will be making his sixth start with the Bison, but despite throwing back-to-back quality starts, he is still looking for his first Triple-A victory.
Between the two levels this season, Sanchez is 3-5 with a 4.00 ERA. He has struck out 76 batters and walked 55 in 92 1/3 innings.
Montgomery, the Rays' No. 17 prospect, has been one of Durham's most reliable pitchers this season. He enters Thursday with an 8-1 record and a 3.30 ERA in 16 starts. Montgomery has struck out 77 batters and walked 27 in 90 innings.
Lee, ranked No. 66 on the Top 100, has been slowed by injuries the last two years. He missed almost all of the 2013 season after tearing ligaments in his left knee in a collision at second base last April. Lee then missed the first three weeks of this season due to a calf strain.
Though he is healthy again, Lee has struggled to regain his form at the plate. He is hitting .211/.285/.272 with 10 stolen bases in 59 games this season.
In addition to Sanchez, several other pitchers ranked in the Top 100 are scheduled to start Thursday, including, Jon Gray (No. 13), Mark Appel (No. 14), Dylan Bundy (No. 17), Zach Lee (No. 52), Nick Kingham (No. 85), Anthony Ranaudo (No. 91) and Jackson (No. 97). Fans can watch Gray, Lee, Kingham, Ranaudo and Luke Jackson on MiLB.TV, beginning with Kingham and Triple-A Indianapolis facing Columbus in Game 1 of a doubleheader at 6:05 p.m.
Like Sanchez, Jackson is looking for his first Triple-A victory. The Rangers' No. 3 prospect began the season with Double-A Frisco, where he went 8-2 with a 3.02 ERA and struck out 83 batters in 83 1/3 innings. He will face Colorado Springs at 8:05 p.m. Thursday in his third start since being promoted.
Top prospect probables
Mark Appel (Astros' No. 2), Lancaster vs. Inland Empire
Christian Binford (Royals' No. 11) Northwest Arkansas at Springfield
Clayton Blackburn (Giants' No. 8), Richmond vs. Akron
Dylan Bundy (Orioles' No. 1), Frederick at Salem
Daniel Corcino (Reds' No. 10), Pensacola vs. Montgomery
Dylan Covey (A's No. 11), Beloit vs. Burlington
Jonathon Crawford (Tigers' No. 4), West Michigan at Bowling Green
Rafael De Paula (Yankees' No. 15), Tampa at Clearwater
Cody Dickson (Pirates' No. 17), West Virginia vs. Greensboro
Drew Gagnon (Brewers' No. 16), Huntsville at Chattanooga
Amir Garrett (Reds' No. 19), Dayton vs. South Bend
Jon Gray (Rockies' No. 1), Tulsa vs. Arkansas
Alec Grosser (Braves' No. 17), Danville at Pulaski
Mitch Gueller (Phillies' No. 17), Williamsport vs. Vermont
Jason Hursh (Braves' No. 4), Mississippi vs. Mobile
Luke Jackson (Rangers' No. 3), Round Rock vs. Colorado Springs
Nick Kingham (Pirates' No. 8), Indianapolis vs. Columbus
Zach Lee (Dodgers' No. 4), Albuquerque vs. El Paso
Arnold Leon (A's No. 19), Sacramento at Fresno
Cody Martin (Braves' No. 8), Gwinnett at Norfolk
Steven Matz (Mets' No. 10), Binghamton vs. Portland
Mike Montgomery (Rays' No. 17), Durham at Buffalo
Wes Parsons (Braves' No. 18), Lynchburg vs. Carolina
Anthony Ranaudo (Red Sox's No. 8), Pawtucket at Toledo
Aaron Sanchez (Blue Jays' No. 1), Buffalo vs. Durham
Antonio Senzatela (Rockies' No. 20), Asheville at Kannapolis
Blake Snell (Rays' No. 9), Charlotte vs. Jupiter
Teddy Stankiewicz (Red Sox's No. 17), Greenville vs. Augusta
Chris Stratton (Giants' No. 7), San Jose vs. Bakersfield
Alberto Tirado (Blue Jays' No. 6), Vancouver at Everett
Blake Treinen (Nationals' No. 17), Syracuse at Charlotte
Taylor Williams (Brewers' No. 15), Wisconsin vs. Cedar Rapids
Asher Wojciechowski (Astros' No. 13), Oklahoma City vs. New Orleans
Teddy Cahill is a reporter for MLB.com. Follow him on Twitter at @tedcahill. This story was not subject to the approval of Major League Baseball or its clubs.