Junior Home Run Derby to showcase top young talent
Nine high school players will compete for two spots in Gillette Home Run Derby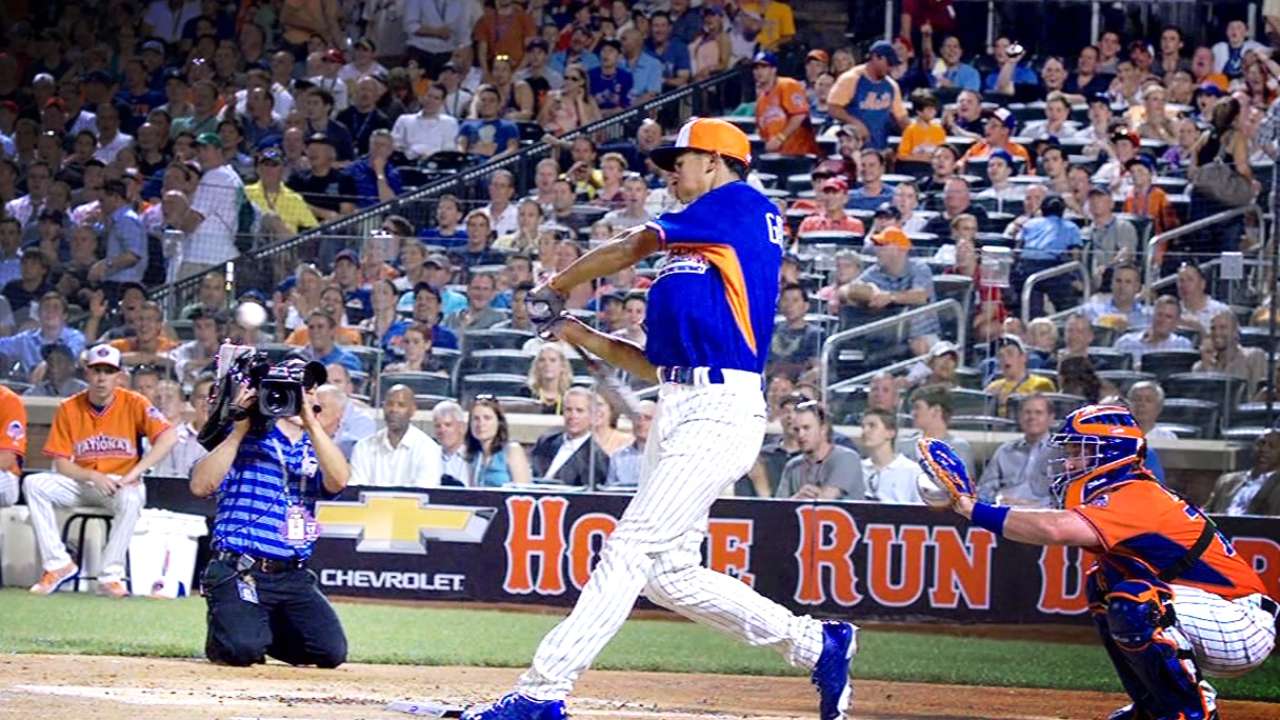 MINNEAPOLIS -- Yoenis Cespedes may have won the 2013 Chevrolet Home Run Derby, but a high school player stole some of his thunder.
Using a metal bat, Clovis (Calif.) High shortstop Jacob Gatewood outperformed five of the eight big leaguers by swatting 13 homers during commercial breaks. Three of his blasts carried into the third deck at Citi Field, drawing looks of astonishment from the All-Stars. Robinson Cano, Mike Trout and others gave Gatewood hugs and fist bumps.
The display established Gatewood as the top power-hitting high school prospect for the 2014 First-Year Player Draft, which helped him earn a $1.83 million bonus as a supplemental first-round pick of the Brewers in June.
Now another group of prep sluggers will try to follow Gatewood's path. For the second straight year, MLB will hold a Junior Home Run Derby on Sunday morning before the SiriusXM All-Star Futures Game. MLB.com will televise the event, live from Target Field, starting at 9 a.m. ET.
Last year's field included six participants, including Alex Verdugo (who signed for $914,600 as a Dodgers second-round pick this June) and Bobby Bradley (who received $912,500 as an Indians third-rounder). Kel Johnson, who finished second to Gatewood in the Junior Derby and hit 11 homers during Monday's main event, went undrafted amid signability concerns and will continue his career at Georgia Tech.
This year, nine players will vie for two spots in Monday's Gillette Home Run Derby. The two highest-rated prospects among them are Wilson High (Long Beach, Calif.) catcher Chris Betts and Mater Academy Charter School (Hialeah Gardens, Fla.) outfielder Danny Reyes.
The latest prospect from Wilson -- which has produced Hall of Famer Bob Lemon, All-Stars Jeff Burroughs and Bobby Grich, and first-round picks Sean Burroughs and Aaron Hicks -- Betts has a history of standing out against top competition. He won a gold medal with the U.S. National Team at the Pan American 14-and-under Championships in 2011, was one of the top underclassman performers at the 2013 Area Code Games and homered in the recent Tournament of Stars. Betts has improved significantly behind the plate, and his all-around ability as a catcher could make the Tennessee recruit a first-round choice in 2015.
Reyes led Mater to its first Florida 6-A state championship this spring. He repeatedly puts on some of the best batting-practice shows in the 2015 prep class, and if he produces more consistently during game action, he should go early in next year's Draft. A Florida recruit, Reyes also possesses solid speed and arm strength.
The Junior Home Run Derby will have some local flavor this year with Red Wing (Minn.) High third baseman Ty Buck. He already has gone deep at Target Field, clearing the fence during a high school showcase last August.
The other participants are Oak Ridge High (Conroe, Texas) catcher Luken Baker, Valencia (Calif.) High first baseman Devin Davis, River Ridge High (New Port Richey, Fla.) first baseman Jason Heinrich, Puerto Rico Baseball Academy (Gurabo, P.R.) first baseman Raul Hernandez, St. Joan of Arc Catholic Secondary School (Mississauga, Ontario) first baseman Josh Naylor and Washington High (New York) third baseman Wesley Rodriguez.
Jim Callis is a reporter for MLB.com and writes a blog, Callis' Corner. Follow @jimcallisMLB on Twitter. This story was not subject to the approval of Major League Baseball or its clubs.