Kids enjoy All-Star opportunity of a lifetime
Children with physical, mental disabilities play two-inning game at Target Field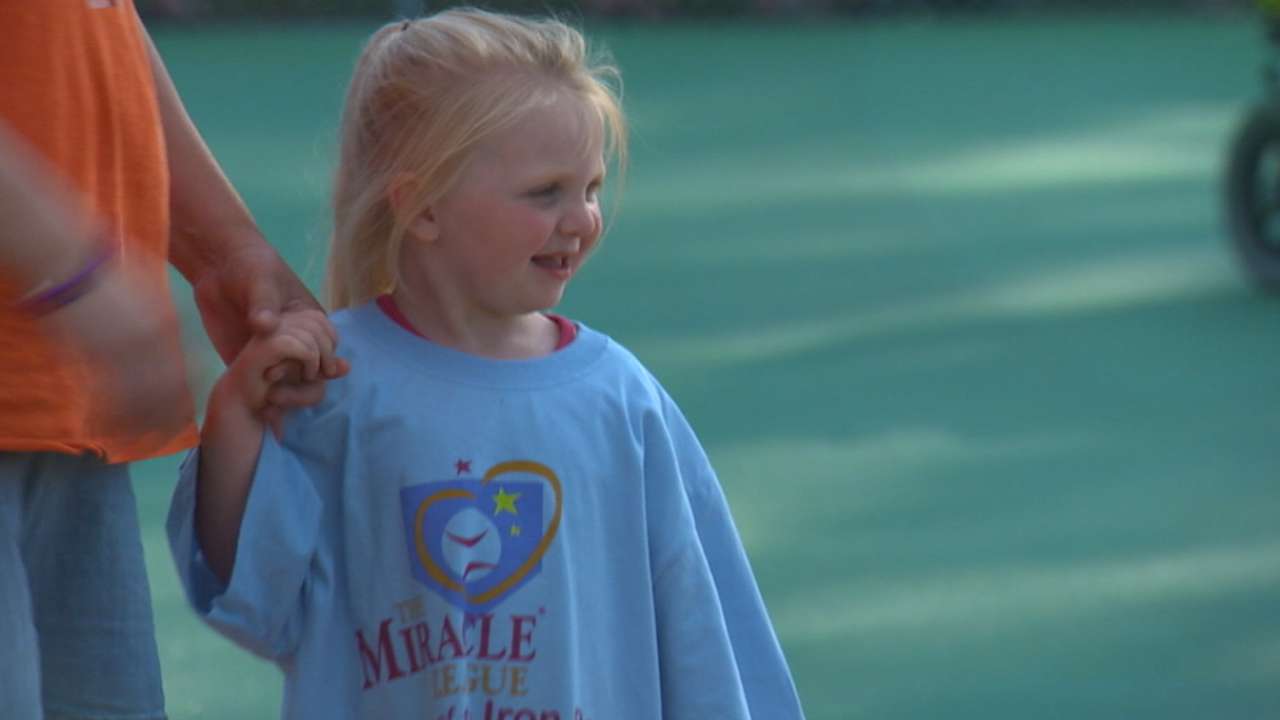 MINNEAPOLIS -- The first baseballs hit at Target Field during All-Star week didn't come from a celebrity, a Hall of Fame legend or a professional slugger.
On Friday, that honor belonged to kids from the Hopkins Challenger division and the West/South Metro Miracle League division.
All the players in the two-inning game either had physical or mental disabilities that keep them from playing in the more traditional youth baseball leagues, but that didn't mean they weren't slugging the ball all over the Target Field turf.
Former Twins players Rod Carew and Tim Laudner were in attendance to speak and catch the game's first pitches.
"It's just a great feeling to be able to do this, to come out here and share that with them," Carew said.
The 18-time All-Star and Hall of Famer -- who had a field dedicated with his name in Minneapolis on Thursday night as part of the Twins' legacy giving program -- helped out with the Challenger/Miracle game in the week leading up to the 2010 All-Star Game in Anaheim, and he has tried to further similar programs in California per the wishes of late teammate Harmon Killebrew.
"I know how important this event was to Harmon," he said. "Hopefully, I can continue to be a part of it and continue getting kids involved."
The Twins are very familiar with Miracle League, a national organization that Kevin Thoresen brought to the local level in 2005. The team just dedicated Kevin Thoresen All-Star Miracle Field in Hibbing on Wednesday night, the 12th such field in Minnesota that allows kids with disabilities a safe place to play.
But the connection doesn't run as deep with the Challenger League, a division of Little League that was the first adapted baseball program in the world when it began in 1989.
"It's a once-in-a-lifetime opportunity for the kids," said director Sam Ranck. "I heard the excitement leading up to it not only from the players, but from the parents. Just getting to step foot on the field and see their name on the scoreboard."
The teams played Friday's game in the left-field corner of Target Field, with temporary bases placed around the outfield and MLB mascots cheering them on.
"When you see the smiles on kids' faces today, that's as true to what the Little League program is about and what baseball is about as anything," Ranck said. "At it's heart, baseball is the American pastime. It's something everybody has the opportunity to enjoy, and this is the quintessential example here today."
The 85th All-Star Game, which begins Tuesday at 7 p.m. CT, will be televised nationally by FOX, in Canada by Rogers Sportsnet and RDS, and worldwide by partners in more than 200 countries via MLB International's independent feed. ESPN Radio and ESPN Radio Deportes will provide national radio coverage of the All-Star Game. MLB Network and SiriusXM will also provide comprehensive All-Star Week coverage. For more information, please visit allstargame.com.
The final phase of All-Star Game voting will again allow fans to help choose the Ted Williams All-Star Game Most Valuable Player Award presented by Chevrolet. During the Midsummer Classic, fans will vote exclusively online at MLB.com and via Twitter in the 2014 All-Star Game MLB.com MVP Vote Sponsored by Pepsi, and their collective voice will represent 20 percent of the overall vote that determines the recipient of the Arch Ward Trophy.
MLB.TV Premium subscribers, for the first time, will be able to live stream the All-Star Game via MLB.TV through FOX's participating video providers. Access will be available across more than 400 platforms that support MLB.TV, including the award-winning MLB.com At Bat app. MLB.com will provide extensive online coverage of the All-Star Week festivities.
Alex M. Smith is an associate reporter for MLB.com. Follow him on Twitter @asmiff. This story was not subject to the approval of Major League Baseball or its clubs.