MLB.com Columnist
Jonathan Mayo
Futures showcase: Who do GMs want to see?
Hard-throwing Giolito, power-hitting Bryant and Gallo top sample polling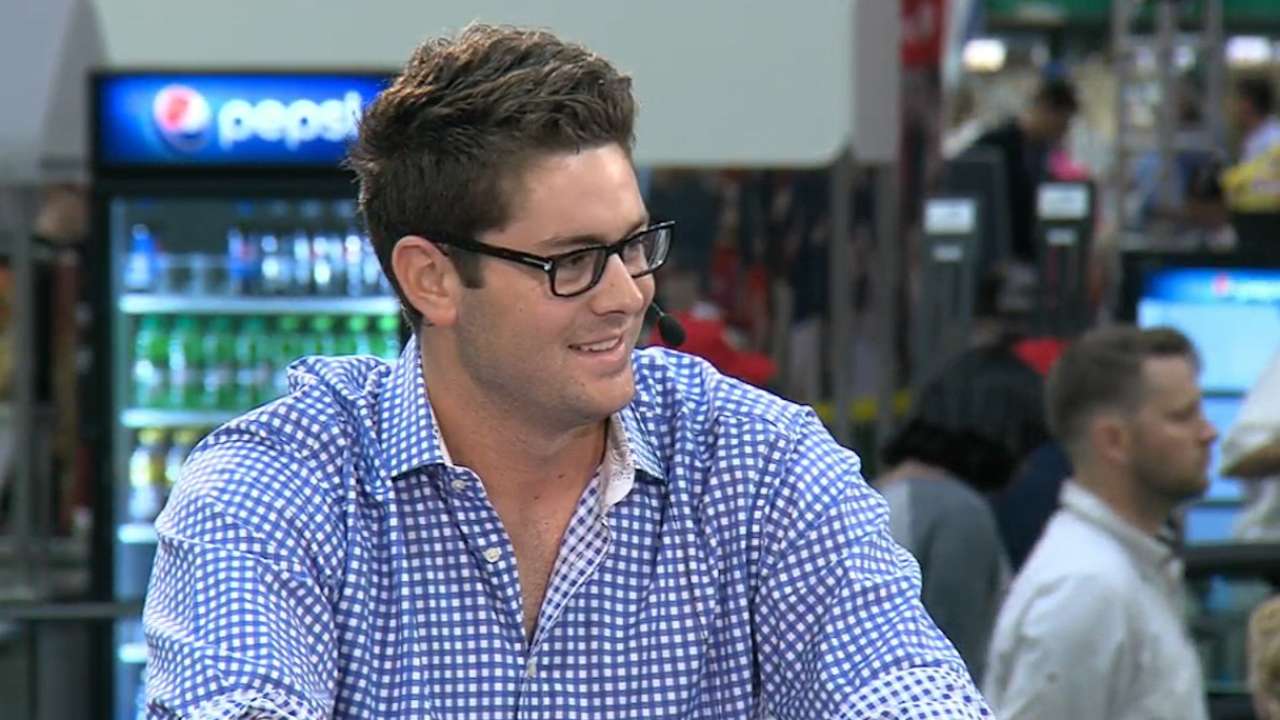 MINNEAPOLIS -- Perhaps the greatest thing about the SiriusXM All-Star Futures Game is seeing all of that young talent assembled on one field at one time. For prospect fans of all shapes and sizes, who perhaps have only gotten small glimpses (if that) of these future stars, it's like being a kid in a candy store.
It's not just the casual fan who gets geeked out for Sunday's exhibition. General managers, team executives and scouting directors all look forward to the Futures Game each year.
With that in mind, MLB.com polled a sampling of front-office types about which hitters and pitchers they were most looking forward to seeing in this year's Futures Game. There was one hurler who was the overwhelming choice: Nationals right-hander Lucas Giolito.
Some of the reasons were because of his pure power stuff. Some were anxious to see what he looked like, having seen him a while ago and wanting to compare him now that he's far past Tommy John surgery. Whatever the reason, he received half of the total votes cast for pitchers.
"I haven't seen him since the surgery," a National League general manager said, echoed by many who responded to the survey. "It was a great gamble by Washington. I want to see how his power stuff bounced back."
Young Dodgers lefty Julio Urias also received multiple votes, as did Twins right-hander (and World Team starter) Jose Berrios. At 17, Urias is the youngest Futures Game participant this year, and there seems to be a good amount of curiosity surrounding the southpaw.
"Urias intrigues me; I've never seen him," an American League GM said.
Other pitchers receiving votes were Henry Owens, Domingo German, Hunter Harvey and Jake Thompson.
The votes were split a bit more when it came to picking a hitter. Not surprisingly, Cubs third baseman Kris Bryant received the most mentions, though Rangers slugger Joey Gallo, tied with Bryant for the Minor League lead with 31 homers, was right behind him.
"It has to be Gallo," one pro scouting director said. "For me, batting practice is more exciting than the game and Gallo can put on a BP show in any park."
"Bryant is currently the best bat in Minors, and he's on his way to being a Major League All-Star, and soon," a National League GM exclaimed.
Shortstops Francisco Lindor of the Indians and Corey Seager of the Dodgers received multiple votes, with D.J. Peterson, Javier Baez, Dariel Alveraz and Dalton Pompey also getting nods, as executives often picked players they'd never seen.
Those who picked Giolito and Gallo -- and the same would work for a Giolito-Bryant vote -- can be summed up by this executive:
"They both have big tools," the executive said. "That's always fun to see."
So much fun that one NL general manager let his imagination go, wishing for a duel that won't happen, at least not as teammates in the Futures Game.
"I like the pure power of [Giolito and Gallo] and would love to see them match up against each other, which obviously won't happen in this game," the GM said. "But it would be fun to see someday."
Jonathan Mayo is a reporter for MLBPipeline.com and writes a blog, B3. Follow @JonathanMayoB3 on Twitter. This story was not subject to the approval of Major League Baseball or its clubs.