Pair of homers, double highlight Futures Game offense
Prospects show power as Baez, Gallo hit two-run shots, Winker rips laser two-bagger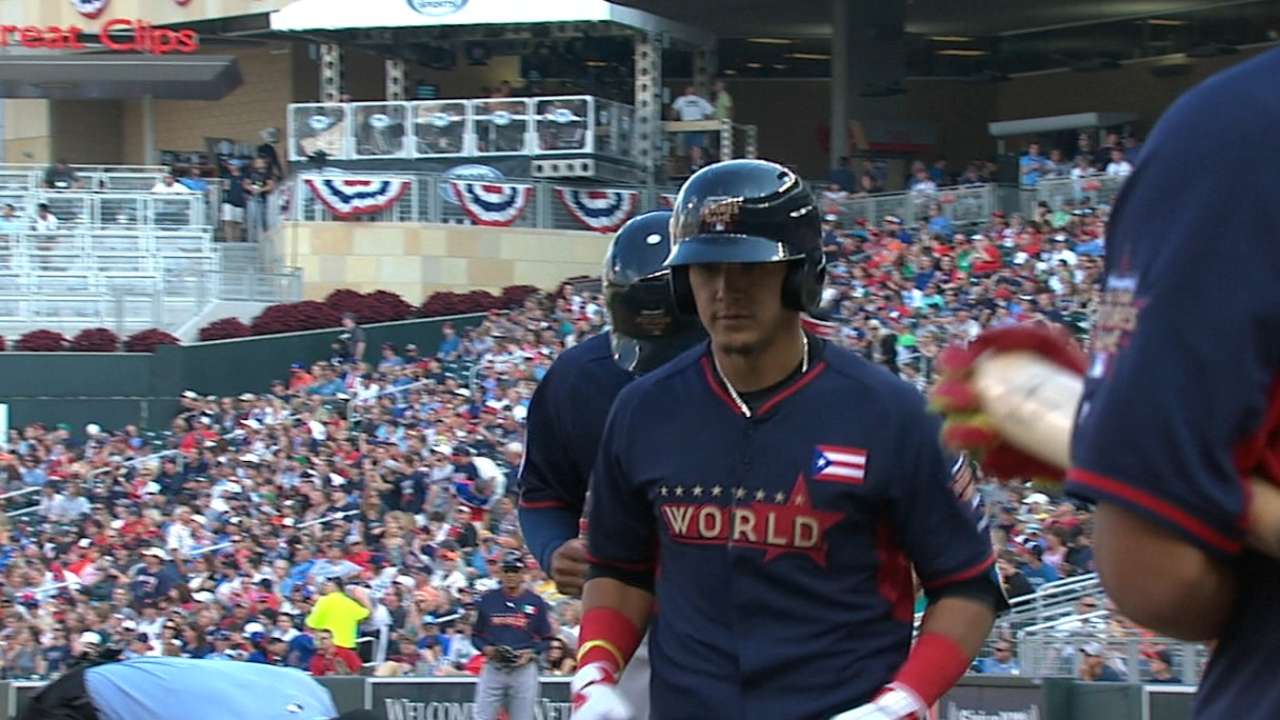 MINNEAPOLIS -- Offense wasn't always easy to come by in the Sirius/XM All-Star Futures Game, which the U.S. Team won, 3-2, on Sunday afternoon at Target Field.
But when it did come, it was eye-catching. Here were the three must-see offensive highlights from the game:
1. Javier Baez two-run homer in the sixth
Joey Gallo would have the day's longest home run (and more on that in a second), but Baez's sixth-inning shot off power pitcher Lucas Giolito (Nationals), which briefly gave the World Team a 2-1 lead, might actually have been the most impressive.
That's because it came on a curveball and was driven 399 feet to the opposite field, striking the rail just above the limestone façade above the right-field wall. An impressive display from a guy who possesses one of several enticing power bats in that Cubs system.
"It was like somebody was telling him what pitches were coming, and he just knew I was about to throw a curveball there," Giolito said. "I was expecting to just kind of get it over. I wanted to throw it sharp, and I don't think it came out sharp, but I just wanted to get it over and get ahead, maybe get a double play out of it, maybe bust him in with a fastball the next pitch. But he was all over it. Credit to him. Nothing I can do about that."
Said Baez: "I always look fastball inside. He didn't throw it, but he threw me a first-pitch curveball for a strike, so I swung at it, and I hit it pretty good."
Yep, sure did.
2. Gallo two-run homer in the sixth
Gallo, a prized bat in the Rangers' system, was the star of the show in pregame batting practice, with one particular poke breaking the windshield of the promotional Chevrolet truck parked in the concourse well beyond the right-field wall.
In the actual game, the left-handed-hitting Gallo outdid himself, smacking a 2-0 offering from Astros prospect Michael Feliz over that truck, a two-run blow estimated to have traveled 419 feet. That homer put the U.S. up for good, 3-2, and earned Gallo MVP honors.
"When I connect," Gallo said, "I can usually hit them pretty far. ... This was definitely my most memorable [home run]. In front of 37,000 people, that's crazy."
And what of that bat flip after the homer? Gallo said it was an accident.
"I was telling the guys, I didn't mean to [do a] bat flip," he said. "My glove got stuck on the pine tar on my bat. I saw the replay and I was like, 'Oh, man, that looks so bad.'"
3. Jesse Winker's double in the third
The first hit of the game was a striking one. Winker (Reds) led off the bottom of the third with an opposite field double off Edwin Escobar (Giants) that nearly cleared the left-field wall. Winker settled for a double but would later come in to score from third on a groundout.
"I hit it, and I definitely thought it had a chance [to get out]," Winker said. "I was looking at the left fielder, and I knew it was over his head. I saw it hit off the wall, so I just had to hustle into second to secure a double. It was just fun to be able to put a swing on the ball like that."
Anthony Castrovince is a reporter for MLB.com. Read his columns and follow him on Twitter at @Castrovince. This story was not subject to the approval of Major League Baseball or its clubs.