MLB, Twins team up to teach kids helmet safety
Before ASG, Little Leaguers receive lesson in concussion awareness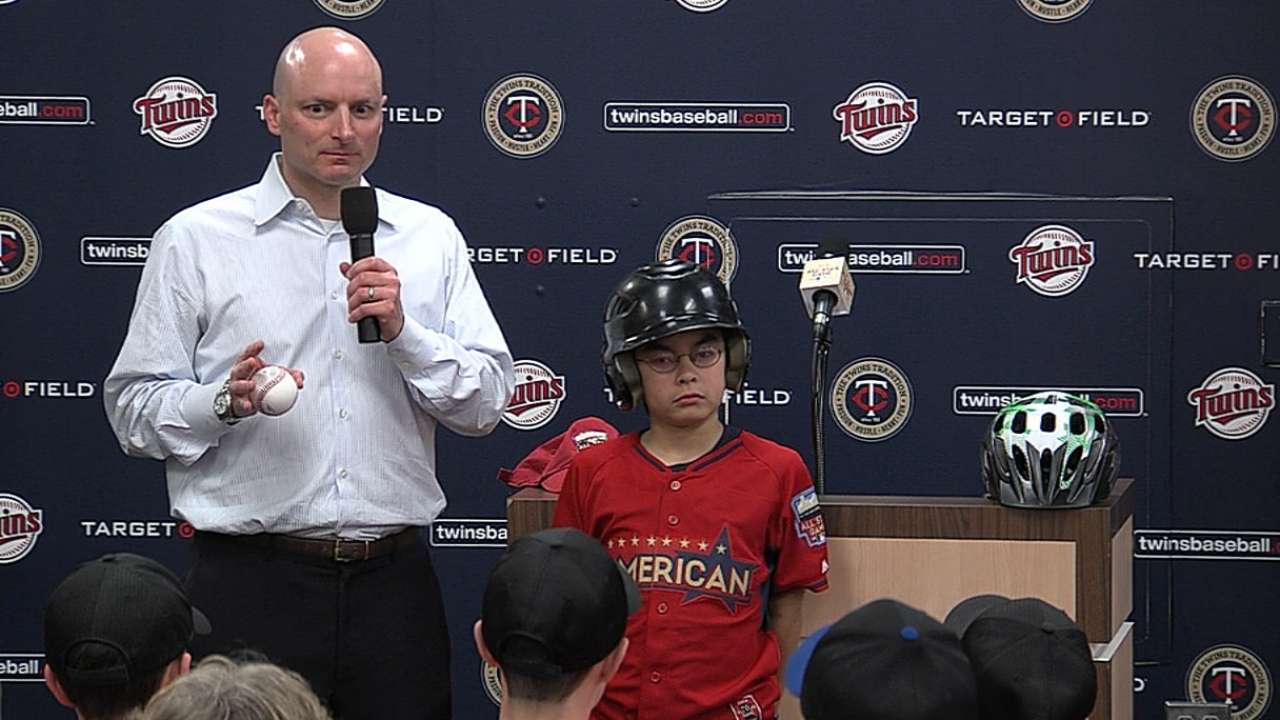 MINNEAPOLIS -- Major League Baseball and the Twins addressed kids about safety awareness and the danger of head injuries in a pre-All-Star Game media session on Tuesday at Target Field.
"It was about making kids aware that they should wear helmets overall to protect their heads," said Joe Torre, MLB's executive vice president of baseball operation, who was there for the briefing.
Elliot Kaye, executive director at the U.S. consumer product safety commission, former Twins infielder/outfielder Corey Koskie and current Twins closer Glen Perkins were among the group of dignitaries who addressed the group of attending Little Leaguers.
Kaye spoke about head safety and concussion awareness by demonstrating the use of a batting helmet on the head of his own son, Noah. Koskie spoke about his own health issues when he played in the Major Leagues from 1998-2006. Koskie played the first seven years of his nine-year career with the Twins.
"The message was this: It's important for the kids to take care of themselves," Torre said. "Whether it's riding a bike or playing a sport you need to have protective gear on. It is so kids would be aware of the dangers.
"Their future is very important to us. Look how long it took Justin Morneau to get over his head injuries. And some athletes never do. You have to take care of yourself. Even though helmets may not be the most attractive thing in the world, they can really save you a lot of pain and grief. It's really important to keeping you on field and having a good time doing it."
Koskie's career, like the career of Cardinals and National League manager Mike Matheny, ended because of a concussion and its immediate stepchild, post-concussion syndrome.
In both cases, the players were disoriented for a long period of time after the injury. Matheny, a catcher, said he may have had as many as 100 concussions in his 13-year career that ended suddenly because of a head injury in 2006 when he was playing for the Giants.
Koskie was injured playing third base for the Brewers when he dove after a short popup and banged his head on the ground.
"As a player I dealt with concussions and post-concussion syndrome for two and half years and overcame that," Koskie told the kids. "As a parent, I've dealt with concussed kids. I can't tell you how difficult it is to deal with that. A concussion is not like other injuries. You can't see it. It's between the ears.
"And when I was going through my concussion, on the bad days you're in your bedroom, the lights are down, you can't play with your kids, and your life is limited. You can't do your job. You can't play. It's tough. It's tough to deal with."
Barry M. Bloom is national reporter for MLB.com and writes an MLBlog, Boomskie on Baseball. Follow @boomskie on Twitter. This story was not subject to the approval of Major League Baseball or its clubs.