Pipeline preview: Buxton set for matchup with Nola
MLB's top-ranked prospect faces Phils' top pick when Fort Myers meets Clearwater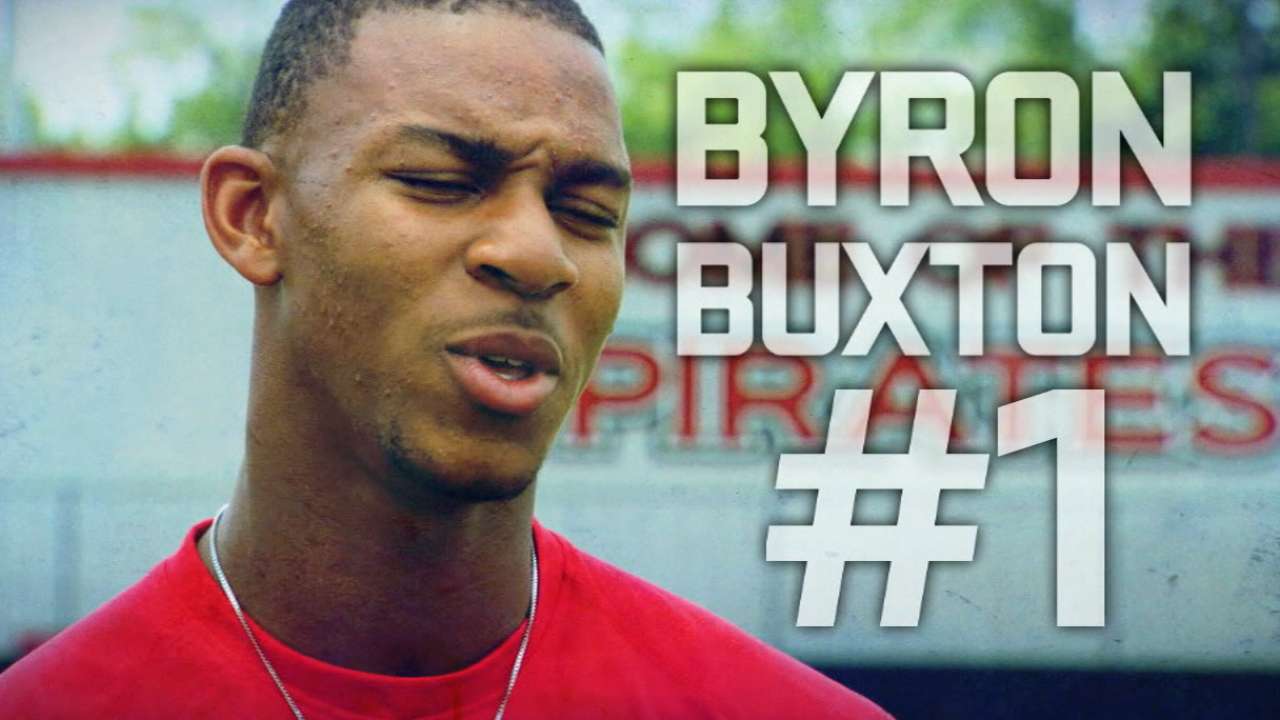 Wrist injuries have limited Byron Buxton, MLB.com's top-ranked prospect, to 20 games this season. But he has mostly been able to stay healthy in July and has once again shown the kind of dynamic player he can be when he's at his best.
In 15 games this month, Buxton is hitting .306/.403/.484 with two home runs and three stolen bases. The Twins' No. 1 prospect has scored 10 runs and driven in 11.
Buxton will look to end July on a high note as he leads Class A Advanced Fort Myers into the final game of its series against Clearwater on Thursday. First pitch is scheduled for 7:05 p.m. ET.
Buxton's injury trouble began in Spring Training when he sprained his left wrist diving for a ball in the outfield. That injury kept him sidelined until May 4, when he made his season debut in Fort Myers. But Buxton's return was short-lived, as he again hurt his wrist sliding into second base later that week. Buxton spent nearly two months on the disabled list as a result.
Before his injuries, Buxton was expected to spend most of the year with Double-A New Britain. And he still could advance there by the end of the season, if he is able to continue his current stretch of good health.
For now, however, Buxton is in the Florida State League, and right-hander Aaron Nola, the Phillies' No. 2 prospect, is the latest pitcher tasked with slowing him down. Nola will be pitching in his seventh game since the Phillies made him the seventh overall pick in the 2014 First-Year Player Draft last month.
After the Draft, Nola went directly from LSU, where he had won his second straight SEC Pitcher of the Year award this spring, to Clearwater. He enters Thursday with a 1-3 record and a 3.42 ERA as a professional. Nola has struck out 22 batters and walked four in 26 1/3 innings.
The Threshers offense is led by shortstop J.P. Crawford, the Phillies' No. 1 prospect and No. 36 overall. He was the Phillies' first-round pick in 2013 and began this season with Class A Lakewood. After an All-Star first half in the South Atlantic League, Crawford moved up to Clearwater last month and has hit .277/.357/.380 with four home runs since the promotion.
In addition to Nola, several other pitchers ranked on the Top 100 are scheduled to start Thursday, including Lucas Giolito (No. 11), Kyle Crick (No. 51), Lance McCullers (No. 83), Aaron Blair (No. 87), Miguel Almonte (No. 94) and Michael Feliz (No. 99). Fans can watch Crick and Blair on MiLB.TV, beginning with Crick and Double-A Richmond facing Altoona at 7 p.m.
Blair, the D-backs' No. 4 prospect, will get the ball for Double-A Mobile as it begins a five-game series at Mississippi at 8 p.m. He will be making his third start for the BayBears since getting promoted from Class A Advanced Visalia. He has won his first two starts at Double-A, striking out 16 batters and allowing just one run on eight hits and one walk in 13 2/3 innings. Mississippi is led by Braves No. 1 prospect Jose Peraza, who enters the series hitting .372/.396/.473 with 21 stolen bases in 34 games since he earned a promotion from Class A Advanced Lynchburg last month.
Top prospect probables
Miguel Almonte (Royals' No. 5), Wilmington at Lynchburg
Tyler Anderson (Rockies' No. 12), Tulsa vs. Springfield
Alec Asher (Rangers' No. 13), Frisco at San Antonio
Trey Ball (Red Sox's No. 14), Greenville vs. Rome
Aaron Blair (D-backs' No. 4), Mobile at Mississippi
Parker Bridwell (Orioles' No. 13), Frederick at Winston-Salem
Kyle Crick (Giants' No. 1), Richmond at Altoona
Edwin Escobar (Red Sox's No. 10), Pawtucket vs. Syracuse
Michael Feliz (Astros' No. 6), Quad Cities vs. Clinton
Kendry Flores (Giants' No. 17), San Jose vs. Stockton
Lucas Giolito (Nationals' No. 1), Hagerstown at Charleston
Luiz Gohara (Mariners' No. 12), Everett at Eugene
J.R. Graham (Braves' No. 12), Mississippi vs. Mobile
Ismael Guillon (Reds' No. 10), Bakersfield at Rancho Cucamonga
Taylor Jungmann (Brewers' No. 12), Nashville at Colorado Springs
Zach Lee (Dodgers' No. 6), Albuquerque at Sacramento
Ben Lively (Reds' No. 6), Pensacola at Tennessee
Luis Lugo (Indians' No. 20), Lake County at West Michigan
Lance McCullers (Astros' No. 5), Lancaster vs. Lake Elsinore
Rafael Montero (Mets' No. 6), Las Vegas vs. El Paso
Mike Montgomery (Rays' No. 16), Durham at Charlotte
Aaron Nola (Phillies' No. 2), Clearwater at Fort Myers
Joe Ross (Padres' No. 9), San Antonio vs. Frisco
Jose Urena (Marlins' No. 10), Jacksonville at Huntsville
Cameron Varga (Rays' No. 8), Princeton vs. Burlington
Tyler Wilson (Orioles' No. 17), Norfolk at Toledo
Tom Windle (Dodgers' No. 7), Rancho Cucamonga vs. Bakersfield
Teddy Cahill is a reporter for MLB.com. Follow him on Twitter at @tedcahill. This story was not subject to the approval of Major League Baseball or its clubs.