Out for more than a month, Mauer returns
Veteran first baseman feeling well following strained right oblique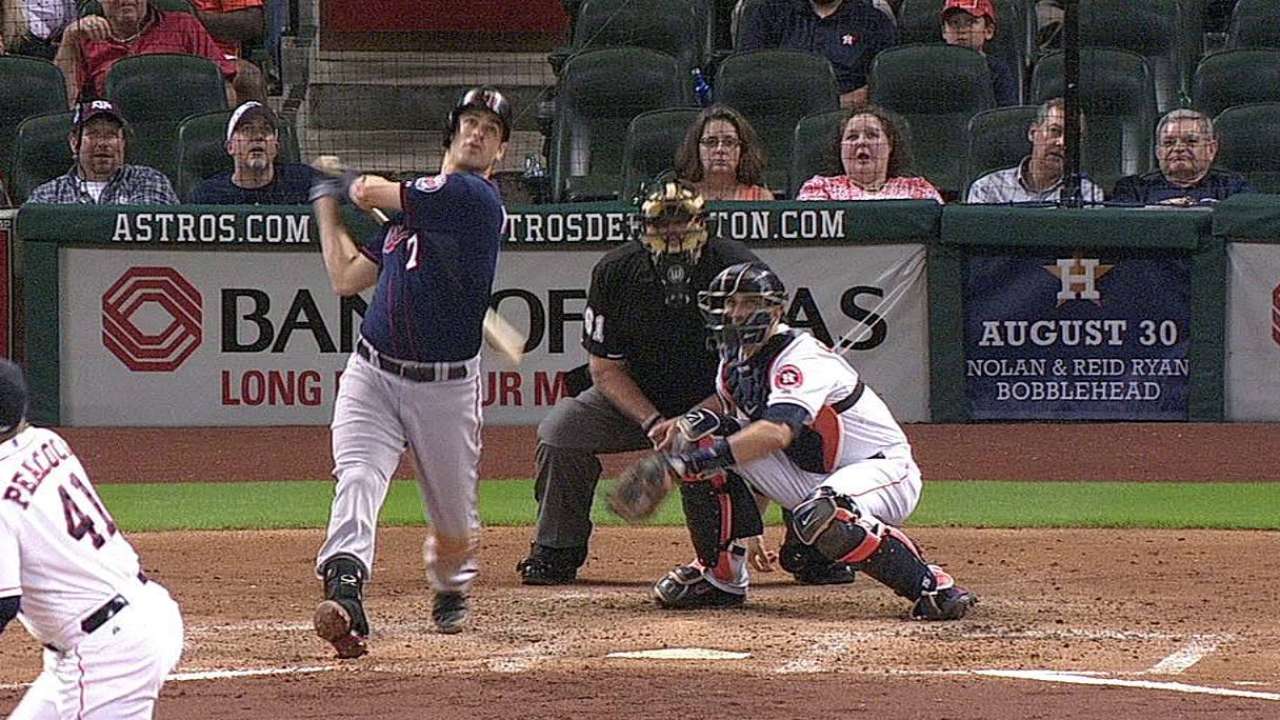 HOUSTON -- Joe Mauer was in the Twins' lineup in Monday night's 4-2 win over the Astros after being reinstated from the disabled list. He returned to the club after a rehab assignment at Class A Cedar Rapids.
Mauer, who went 2-for-4, including the tiebreaking RBI single in the ninth inning, strained his right oblique July 2. He had no issues with the oblique while playing at Cedar Rapids.
"Just trying to keep going in same direction as the last week," said Mauer, who missed 34 games. "It's good to be back, see the guys. A lot of it is getting the timing back, still a work in progress.
"I know I had some good results. It's getting closer and closer, hopefully tonight go in that same direction."
In his first at-bat Monday against Houston righty Brad Peacock, Mauer drew a full-count walk. He extended his season-high hitting streak to 13 games with a third-inning double.
"He's healthy, and that's big," said Twins manager Ron Gardenhire. "We've missed that bat in the lineup. Now we'll put him in the lineup and let him go to work and see how his swing is."
Mauer said there is some soreness.
"It's sore today," said Mauer. "That's going to be the case the rest of this year. It's good to be back and play back-to-back nights like I did at Cedar Rapids. I want to get back up here and play. I feel good, enough to be out there, to be out there and compete."
Mauer did not play in Houston last year because of a concussion. The last time Mauer played at Minute Maid Park was June 22, 2006, when a then 22-year-old phenom Francisco Liriano beat the Astros' Roger Clemens.
Richard Dean is a contributor to MLB.com. This story was not subject to the approval of Major League Baseball or its clubs.