Suzuki gets back-to-back duty against Royals
Twins' catcher employed for matinee after night contest with Milone on mound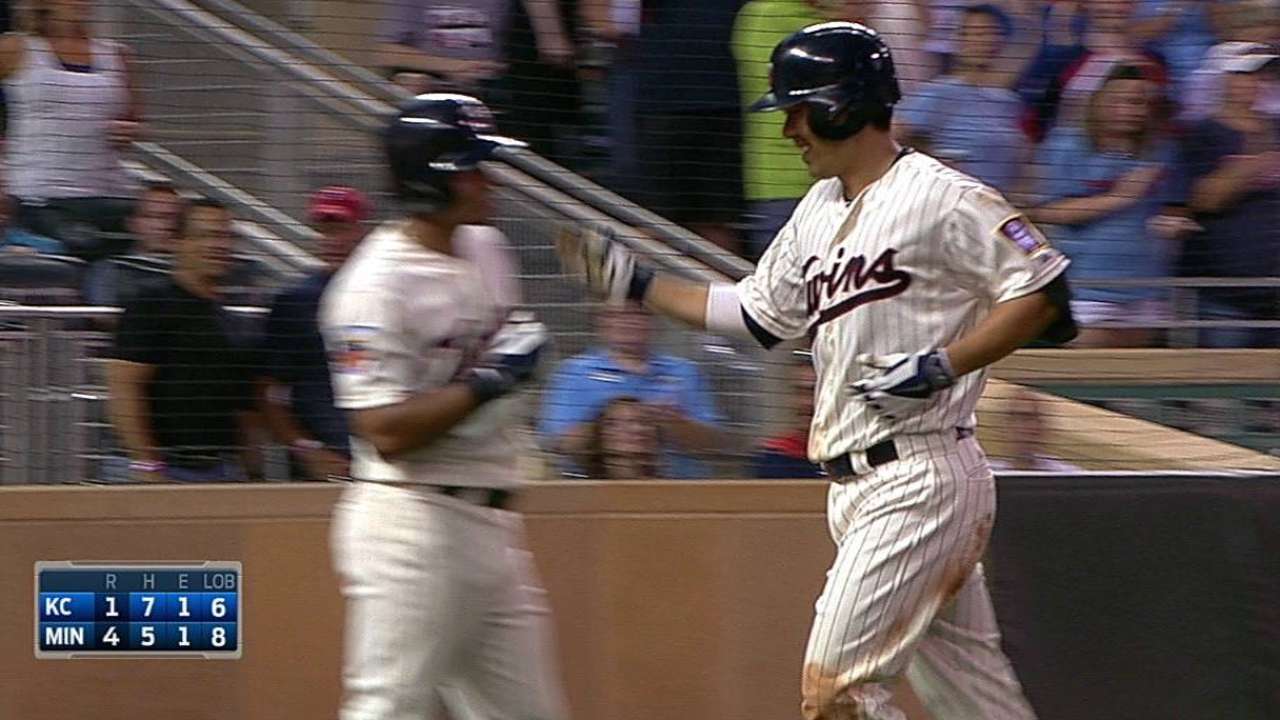 MINNEAPOLIS -- With his familiarity with left-hander Tommy Milone from their time as teammates with the A's, Twins catcher Kurt Suzuki started behind the plate against the Royals on Sunday afternoon.
Suzuki, who scored the tying run and homered in Saturday night's 4-1 win over the Royals, has worked well with Milone in the past. Suzuki had previously caught Milone 15 times in his career, and Milone posted a 2.99 ERA in those starts.
It gives Suzuki a start in a day game after a night game, but he's scheduled to get a break on Monday with backup catcher Eric Fryer set to catch rookie Trevor May in the series finale.
"We had planned it like this," manager Ron Gardenhire said. "They know each other. And then we'll let Fryer catch May tomorrow."
Fryer and May are also familiar with each other, as Fryer caught nine of May's starts at Triple-A Rochester and also caught him in his debut against the A's on Aug. 9. But May struggled in his first career big league start, giving up four runs on three hits and seven walks in just two innings.
May also made a relief appearance on Tuesday against the Astros to help him try to get rid of those jitters. So Gardenhire is hopeful May will pitch more like the way he did at Rochester, where he posted a 2.93 ERA in 17 starts.
"It's another big situation at home against a team that would be in the playoffs so it's not going to get any easier," Gardenhire said. "Hopefully, he'll be able to manage his emotions. He's overthrown so far and hasn't located his fastball so far. All the things he's done well [in the Minors]. So he just has to bring it up to here."
Rhett Bollinger is a reporter for MLB.com. Read his blog, Bollinger Beat, and follow him on Twitter @RhettBollinger. This story was not subject to the approval of Major League Baseball or its clubs.