Gardenhire ejected for arguing Mauer strikeout
Both felt third strike was foul-tipped, hit ground before it was caught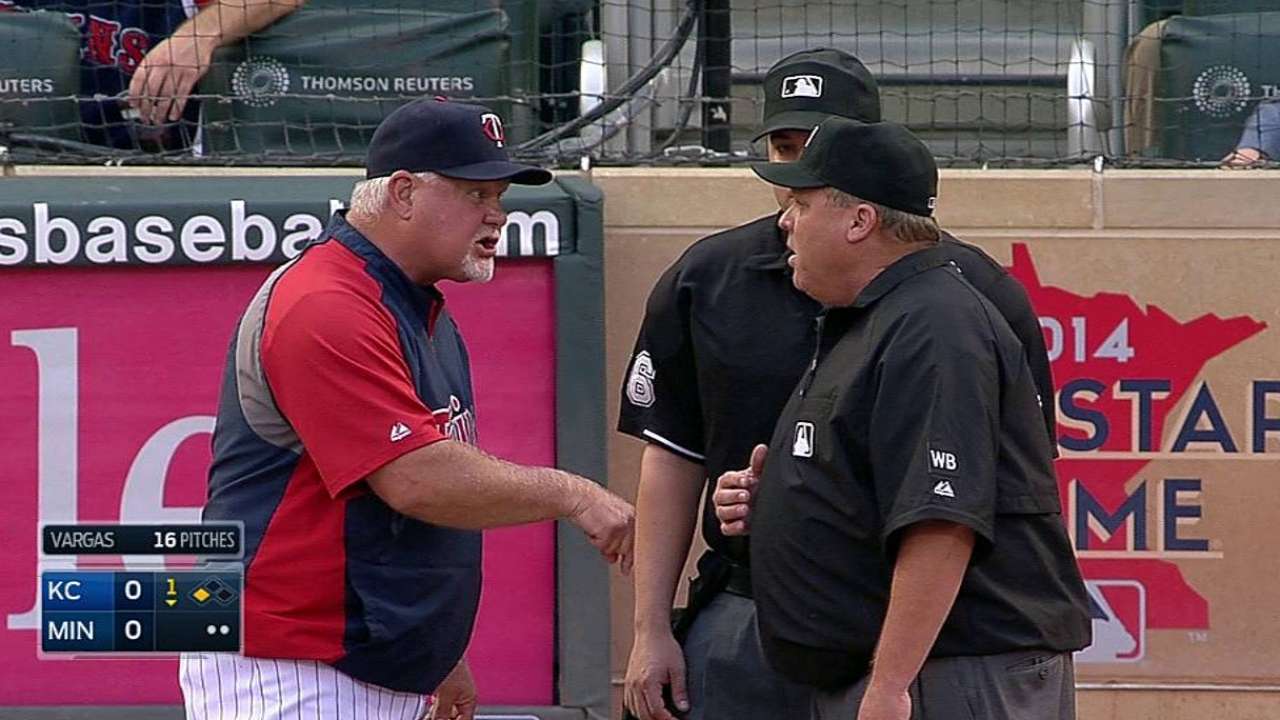 MINNEAPOLIS -- Twins manager Ron Gardenhire was ejected by home-plate umpire Chris Segal for arguing about a strikeout in the first inning of Monday's game against the Royals.
With Danny Santana at second base and one out, Joe Mauer swung at a 3-2 changeup from Jason Vargas and it was ruled as a strikeout by Segal. But Mauer argued that he foul-tipped the pitch and it hit the dirt before catcher Salvador Perez caught it.
Gardenhire joined Mauer at the plate to argue the call, but both walked back to the dugout after being told the call would not be changed and that it wasn't reviewable. But Gardenhire was thrown out from the dugout for continuing to argue with Segal, as he wanted the ball to be checked for any marks coming from the foul tip or the dirt.
"It was a situation where we thought the ball hit the dirt and was a foul ball," said Twins bench coach Terry Steinbach, who filled in for Gardenhire as manager. "Joe is a great hitter and tracks the ball really well and doesn't complain. So that was our first indication.
"Gardy went out there to try to argue it. Fieldin [Culbreth] came in from third and said from the best he could tell it didn't hit it. And then the ejection came when we asked them to check the ball and Chris wouldn't do it."
It marked the fifth time this season that Gardenhire was tossed. He leads all active managers with 72 career ejections.
Rhett Bollinger is a reporter for MLB.com. Read his blog, Bollinger Beat, and follow him on Twitter @RhettBollinger. This story was not subject to the approval of Major League Baseball or its clubs.