Hicks back with Twins with confidence, determination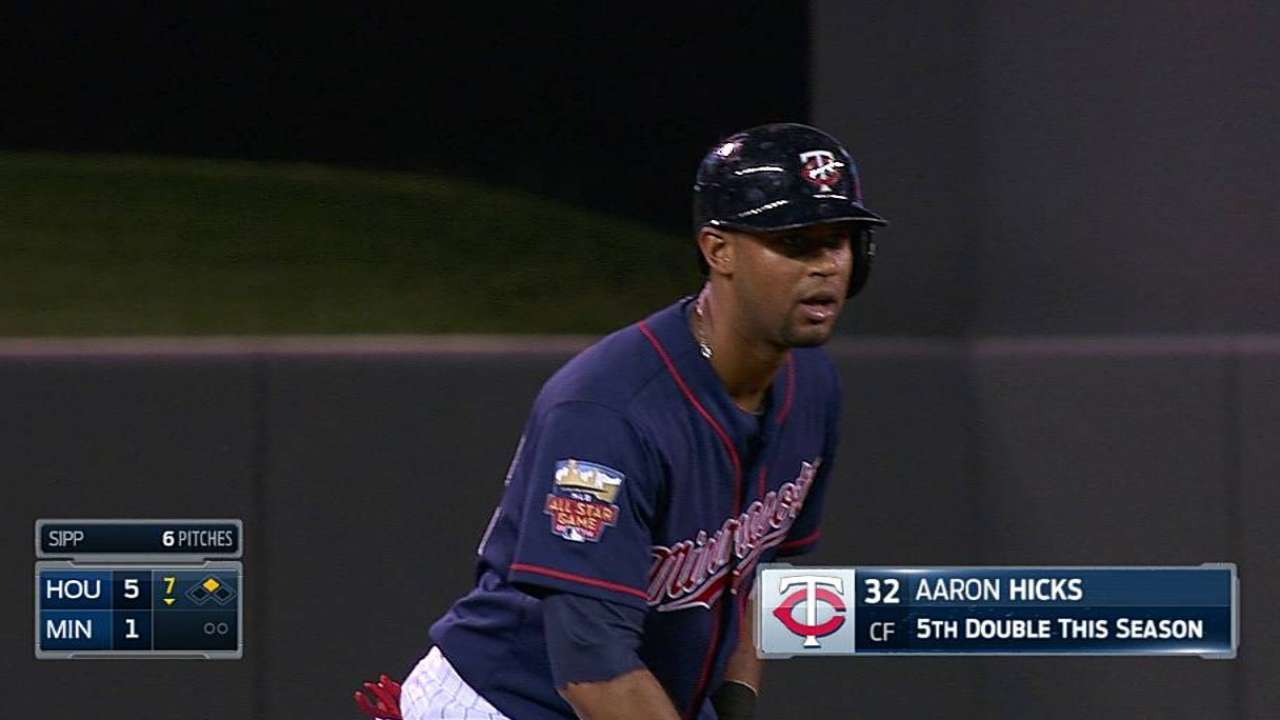 MINNEAPOLIS -- It was a rocky first couple months for Aaron Hicks.
Hicks struggled in the Majors for a second straight season and opted to drop switch-hitting in late May to hit exclusively from the right side.
He ended up injuring his right shoulder in mid-June and went on the 15-day disabled list before being activated later that month and being optioned to Double-A New Britain to help him get his swing back.
It was down there that Hicks received advice from Hall of Famer Rod Carew, who advised the 25-year-old former top prospect to stick with switch-hitting.
"He told me that it was a blessing to be a switch-hitter and to hit from both sides of the plate," Hicks said. "So I made the decision to go back. And since then it's been good."
After hitting .198/.338/.262 in 48 games with the Twins, Hicks was much better in the Minors, batting .286/.381/.438 with five homers and 16 doubles in 66 games between New Britain and Triple-A Rochester.
Hicks, who was one of four position players officially promoted from Rochester as a September callup on Tuesday, said it helped him gain confidence and he's now eager to show his success can translate to the Majors. He'll be mixed into the outfield rotation this month and the center fielder is also expected to see time in the corner outfield spots after seeing time there in the Minors.
"I want to show I can play here," Hicks said. "My confident is up. I want to be the guy who is put in the lineup because they have trust for me. So for me it's about showing it. I've been playing in the corners and that's been interesting. So it's fun to play different positions and be versatile."
Rhett Bollinger is a reporter for MLB.com. Read his blog, Bollinger Beat, and follow him on Twitter @RhettBollinger. This story was not subject to the approval of Major League Baseball or its clubs.